Driving Safety
Street Racing/Takeovers, Stunt Driving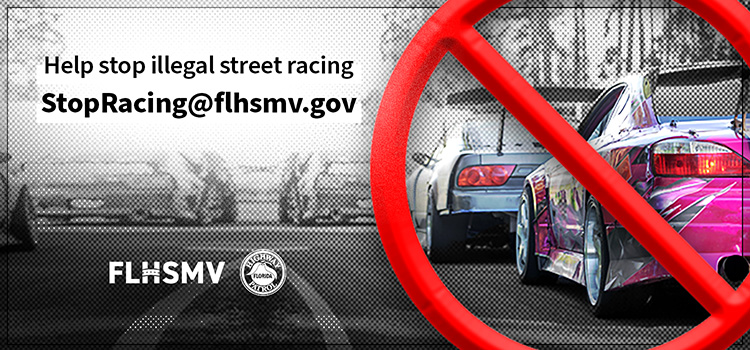 Be calm – Don't engage – Pull over – Report
In October 2022, Florida law was enacted to curtail the dangerous rise in street-racing incidents on Florida roadways.
Section 316.191, Florida Statutes outlaws racing on streets and highways, street takeovers, and stunt driving, as so defined in the statute. The law bans unsanctioned drag racing, street takeovers, drifting, wheelies, burnouts, and donuts.
Cars, trucks, motorcycles, ATVs and other wheeled vehicles are prohibited from participating in any "street takeover, stunt driving, race, speed competition or contest, drag race or acceleration contest, test of physical endurance, or exhibition of speed or acceleration on highway, roadway, or parking lot."
This criminal activity, which endangers the general public and prohibits law enforcement and first responders from aiding actual emergency and non-emergency events, will not be tolerated.
DATA ANALYSIS
In Florida, between 2018 and 2022, there were 6,641 citations issued for either street racing/stunt driving – a first-degree misdemeanor – or for actively participating as a spectator – classified as a non-criminal traffic infraction. Both are identified in Section 316.191, Florida Statutes.
Primary age ranges identified are 16-29 – both as participants and spectators.
STREET-RACING PENALTIES
Those who can be charged with first-degree misdemeanors include both driver and passengers, anyone in a vehicle who is filming participants, and organizers and promoters.
FIRST VIOLATION
First-degree misdemeanor
Driver license revoked for 1 year
County-imposed fine between $500 and $1,000
SECOND VIOLATION
First-degree misdemeanor
Driver license revoked for 2 years
County-imposed fine between $1,000 and $3,000
THIRD VIOLATION
First-degree misdemeanor
Driver license revoked for 4 years
County-imposed fine between $2,000 and $5,000
For more information, see Section 316.191, Florida Statutes
SPECTATOR PENALTIES
A person outside a vehicle may not be a spectator at street races or street takeovers. Violation is a non-criminal infraction, punished by section 318.14, Florida Statutes, involving civil penalties.
FINANCIAL PENALTIES
Rough estimates of county towing fees for street racing-heavy counties Broward, Miami-Dade, and Hillsborough identify that another $300 to $1,600 in towing/impoundment fees* could easily be added to the financial penalties incurred from illegal street racing.
*Disclaimer: Each Florida county sets its own tow/impoundment rates. These financial ranges are estimates only, and amounts can change depending upon the details of a particular case, vehicle weight and length, time spent at crime scene, inside/outside daily storage rates, time spent in impoundment, etc.
Bottom line: A motor vehicle is many people's lifeline to get to and from their job, take kids to and from school, and handle daily life tasks. Don't let illegal street racing become a mistake from which you can't recover.
WHAT TO DO IF YOU ENCOUNTER ILLEGAL STREET RACING, STUNT DRIVING, OR STREET TAKEOVERS
Remain calm
Do not engage
If possible, safely pull over to the side of the road
Report it
REPORTING STREET RACING
 If you encounter illegal street racing/ takeover or stunt driving call *FHP (*347) or 911 and you will be immediately routed to the nearest dispatch center.
If you have information regarding an upcoming event or can identify participants, please email StopRacing@flhsmv.gov and send any corresponding screenshots or documentation.
Resources
Press Release | 2023
SOCIAL MEDIA KIT