Driving Safety
Florida Distracted Driving Awareness Month – April 2016

#FocusOnDrivingFL
Distracted driving is extremely risky behavior that not only puts drivers and passengers in danger, but also pedestrians and bicyclists sharing the road. Focused attention on driving helps to prevent crashes overall.
Texting requires all three types of distraction, making it one of the most dangerous of distracted driving behaviors.  However, this is not the only cause of distracted driving.  Other common distractions include: talking on a cell phone, tending to kids or passengers in the back seat, watching an event outside of the vehicle, interacting with passengers, eating, unsecured pets, grooming, adjusting radio or climate controls and daydreaming.
The Florida Department of Highway Safety and Motor Vehicles reminds all drivers to Focus on Driving, Florida!
Distracted Driving Awareness Campaign Materials
Press Release
Talking Points
Radio PSA
Radio PSA (Spanish)
Social Media
By the Numbers
Distracted Driving Crashes by County 2015
Texting Citations by County Oct. 1, 2013 – Dec. 31, 2015
Citations for Texting or Wearing Headphones while Driving by County 2015
Sample Ads
Campaign Logos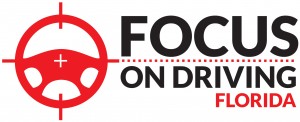 Campaign Poster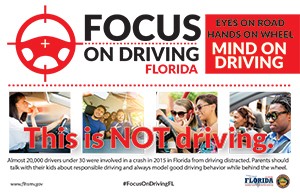 Our Partners