Safe Holiday Travel
Holiday Safety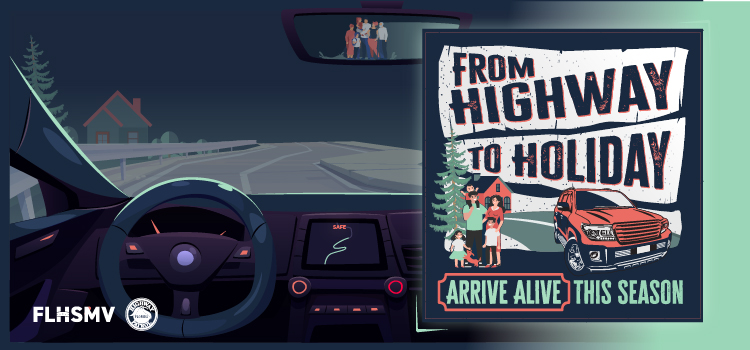 The holidays are a great time for family and friends to create memories together. When you leave your home, please keep in the forefront of your mind, and remember safety begins with you.
Follow these tips to help ensure we all remain safe this holiday season:
Never drive impaired. Celebrate responsibly and do not get behind the wheel if you have been drinking or took drugs that cause impairment. Plan ahead and find a safe way home every time – designate a driver or use a ride service.
Check your tires. Tires are a vehicle's first line of defense on the road. Check your tire pressure, tread depth and spare tire especially before long trips. Do not over load your vehicle, it can result in premature wear and tire blowouts.
Buckle up. A seat belt is your vehicle's most important safety feature. Florida law requires that all drivers, all front seat passengers and all passengers under the age of 18 wear seat belts or the appropriate child restraints. Seat belts save lives, so buckle up every trip, every time.
Register or update your Emergency Contact Information (ECI). ECI is a secure system allowing law enforcement, nationwide, to contact designated family or friends in response to an emergency situation.
Observe and obey all speed limits. Speed limits may change as you drive through different types of roadways, so make sure you adjust your speed accordingly. In Florida, the limit will never be over 70 mph.
Parking Lot & Shopping Safety
As parking areas fill during the holiday season, shoppers are often forced to park far from shopping center exits, sometimes in poorly lighted areas. Now that there is less daylight, you're likely to find yourself entering while the sun is up and leaving after dark, so make sure to follow these tips:
Park as close to entrances and exits as you possibly can.
Always try to walk to and from your vehicle with another person. If you are shopping alone, consider walking near other shoppers in the parking lot.
If shopping alone and leaving at night — particularly if you're carrying several bundles — ask a security officer to accompany you to your car. Most malls will provide this service.
If forced to the far reaches of a lot – or even beyond the lot – seek a spot that's well-lit or near a well-traveled roadway.
Stow your purchases in the trunk, away from plain view to prevent theft. Save your most expensive purchases for last, so you can head straight home.
Have your keys ready when you approach your vehicle. Before entering, check that no one is hiding in the back seat.
If you think you are being followed:

Don't drive home. You would only be telling your follower where you live.
Stay Calm. As long as you think clearly, you'll be in control of the situation.
Flash your lights and sound your horn long enough to attract attention to you, and consequently the person following you.
Drive to a safe location, like a law enforcement station. Do not leave this safe location until you're sure your follower is gone.

If you are going to be transporting a tree or other large cargo on your vehicle, make sure you have all the necessary equipment to tie it down properly and securely to your vehicle to prevent dangerous situations on the roadways. Any packages or other cargo inside your vehicle should not block the driver's view from any angle.