Driving Safety
Safe Summer Travel

Traveling throughout Florida can be nearly as fun as getting to your destination. During the holiday and vacation seasons, Florida's roads can be some of the busiest in the country. The Department of Highway Safety and Motor Vehicles is committed to the safety of all motorists on our roads and educating everyone on safe driving to always Arrive Alive.
Tire Safety and Vehicle Preparation
According to the National Highway and Traffic Safety Administration (NHTSA), drivers in the United States put more than 2,900 billion miles on their tires each year with approximately 11,000 tire-related crashes. Tires are your vehicle's first line of defense on the road. Click here for tips on tire safety.
Buckle Up – Seatbelt Usage for Drivers and Passengers
The Dori Slosberg and Katie Marchetti Safety Belt Law, effective June 30, 2009, requires that all drivers, all front seat passengers and all passengers under the age of 18, fasten their safety belts in Florida. Every time you get in a vehicle, no matter where you are sitting, buckle up. That click reduces your risk of being injured or killed in a crash by almost 50 percent. Click here for more on why it's so important to wear your seat belt.
Hurricane Season Preparedness and Inclement Weather Driving Safety
Given its location and miles of coastline, Florida has seen more direct hits from hurricanes than any other state in the U.S. As residents move to the state and the population grows, many Floridians may be unprepared for such severe weather.
This year, get prepared early:
For more information on preparing for hurricanes and inclement weather, click here.
Recalls
A recall is issued when a manufacturer or the National Highway Traffic Safety Administration (NHTSA) determines that a vehicle, equipment, such as an airbag, car seat or tire creates an unreasonable safety risk or fails to meet minimum safety standards. A recall notice is sent from the manufacturer to the consumer. Manufacturers are required to fix the problem by repairing it, replacing it, offering a refund, or, in rare cases, repurchasing the vehicle. Be sure to check for recalls before you head out for summer travel. Click here for more information on recalls and to check if your vehicle has been issued a safety recall.
Heat Stroke Prevention – Do Not Leave Children or Pets in a Car
Florida law states that a parent, legal guardian, or other person responsible for a child younger than 6 years of age must not leave the child unattended or unsupervised in a motor vehicle for a period in excess of 15 minutes or for any period of time if the motor of the vehicle is running, the health of the child is in danger, or the child appears to be in distress. For the safety of your children and pets, never leave a child or pet unattended in a vehicle, even for a short period of time. For more information click here.
The inside of a vehicle can heat up by 20 degrees in just 10 minutes and cracking a window open does little to keep the vehicle cool.
A child's body temperature can rise three to five times faster than an adult's and heatstroke in a closed vehicle can occur when the temperature is as low as 57 degrees outside.
Since 1998, 66 child heatstroke deaths have occurred in Florida, more than any other state except Texas. Hundreds of pets die each year from heat exhaustion when left in vehicles.
Slow Down – Obey All Speed Limits
Speeding is against the law and extremely dangerous. Obeying speed limits improves safety by reducing the probability and severity of crashes. All motorists must obey speed limits and are responsible for knowing the speed limit on the roadway.
Drive Sober – Prevent DUIs and Drunk Driving Crashes
Under Florida law, DUI is impairment of normal faculties or unlawful blood alcohol or breath alcohol level of .08 or above. Driving impaired not only puts everyone on the roadway in danger, it can have serious legal and monetary consequences. Penalties for DUIs can include expensive fines, license revocation and jail time. Convictions can remain on your record for 75 years.
Plan ahead, designate a driver or call a ride service – it is much cheaper than a DUI arrest.
If you see an impaired driver on the road, don't hesitate to contact local law enforcement or dial *FHP (*347). This call could save a life.
Campaign Resources
Social Media Kit
Download the Social Media Posts PDF and click on the thumbnails below to make posting on social media quick and easy! Make sure to use hashtag #TravelSafeFL too.
Safe Summer Travel Social Media Posts
Facebook Cover and Post Images

Instagram Image

Additional Social Media Images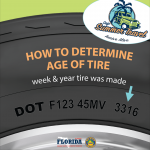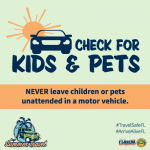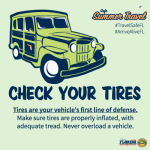 Print Media Kit
Safe Summer Travel Poster – 11 x 17
Safe Summer Travel Poster – 8.5 x 11
Safe Summer Travel Post Card – 6 x 4.25
Data
2016 June and July Crashes by County
2016 June and July Crashes by Agency
2016 June and July Citations by County
2016 June and July Citations by Agency