This year, the Florida Department of Highway Safety and Motor Vehicles (FLHSMV) celebrates its 50th anniversary and its Division of the Florida Highway Patrol (FHP) commemorates its 80th year. FLHSMV provides highway safety and security through excellence in service, education and enforcement. The department is leading the way to A Safer Florida through the efficient and professional execution of its core mission: the issuance of driver licenses, vehicle tags and titles and operation of FHP.
History
When the automobiles began appearing in Florida in the early 1900s, there were no laws to regulate their use on public roads. In 1905, a bill was introduced in the state House of Representatives that would pave the way for the safety and traffic laws that apply today. The bill required automobile owners to register their vehicles and outfit them with safety equipment as well as follow some basic rules for driving. Owners registered their vehicle with the Secretary of State at a cost of $2 and the registration certificate had to be kept in the vehicle.
Early on,

registration numbers were assigned to owners with instructions for creating a homemade plate of wood, tin or leather with the registration number displayed in numerals of not less than 3 inches long and 2 inches wide. In the years that followed, counties and some cities created and issued plates. In May 1917, Chapter 7275, Act 17, Laws of Florida, created Florida's first uniform statewide annual license plate. The plates, issued in 1918, were made of porcelain.
In 1927, the PRIDE Tag and License Plate Plant began manufacturing at the Union Correctional Institution in Raiford. Today, this plant continues to manufacture all license plates issued by the state of Florida. During the 2017-2018 fiscal year, the plant manufactured and distributed nearly 4.7 million license plates.
Prior to 1939, any person, regardless of age, was free to operate a vehicle on Florida highways so long as they observed a few basic rules of the road and did not drive intoxicated. By 1939, there were 532,336 automobiles registered in the state and public roads were expanded and improved. In response to the rapidly growing number of drivers, the 1939 Legislature enacted the Florida driver licensing law.  The law mandated everyone obtain a driver license if they intended to drive, but no examination was required. Licenses were issued by county judges and the license fee was 50 cents per year. A "head of the household" could make multiple applications and obtain driver licenses for each member of their family.
In 1939, the Florida Legislature created the State Department of Public Safety with two divisions: FHP and the Division of State Motor Vehicle Driver Licenses. Funds for the operation of the new department came from the sale of driver licenses.
By 1941, new legislation required everyone applying for an original driver license to pass a vision,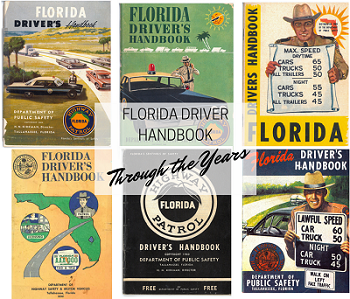 road sign, road rules and driving test. In 1946, the first comprehensive driver license examination program was established, and the first Florida Examiner's Manual was published.
In 1969, under Governor Claude Kirk, the Department of Motor Vehicles and the Department of Public Safety were merged forming the Department of Highway Safety and Motor Vehicles. On August 15, 1969, Colonel H. Neil Kirkman was appointed as the first Executive Director of the FLHSMV by the Governor and Cabinet.
Today, FLHSMV serves more than 20 million Florida residents and more than 100 million visitors to the state each year to make A Safer Florida.
50th Anniversary Exhibit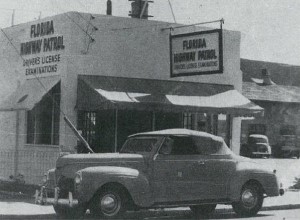 In partnership with the Florida Historic Capitol Museum, the department is presenting a public exhibit showcasing the rich history of FLHSMV and FHP and their profound contribution to make A Safer Florida.
The exhibit includes a vintage license plate display, educational videos and display cases filled with unique FLHSMV and FHP memorabilia.
The exhibit is free of charge. Download the flyer and share with family and friends!
Museum Hours
Monday – Friday: 9:00 am-4:30 pm
Saturday: 10:00 am-4:30 pm
Sunday and Holidays: Noon-4:30 pm
Exhibit Events
License Plate Collector Day: Saturday, April 13 from 10:00 am – 4:00 pm
Come view some of the most extensive Florida license plate collections in the country! Presentations on the history of the Florida license plate will take place at 11:00 am and 1:00 pm. Visitors are encouraged to bring their vintage license plates to learn about their history and value.
FHP vehicles on the Capitol Courtyard: April 11 – 30
Come see yesterday and today's black and tans as FHP displays a 1940s-era patrol car alongside a 2019 Charger. Great photo op for the family!
Resources
Historical Timeline – Division of Driver Licenses
100 Years – History of the Division of Motor Vehicles
Florida Highway Patrol History
Behind the Drive Poster 8.5 x 11