Fraud
Identity Theft & Driver License Fraud Protection


The Florida Department of Highway Safety & Motor Vehicles (FLHSMV) is committed to protecting the integrity of the identity documents issued by the agency. In order to prevent the issuance of driver licenses and ID cards to people who are not eligible to receive these documents, the FLHSMV has enacted stringent requirements relating to the documents that must be presented in order for a customer to prove his/her identity, residency, and citizenship or lawful presence in the United States. We also train our staff to recognize counterfeit and/or fraudulent identity documents. Additionally, we employ a staff of analysts who investigate allegations of driver license fraud.
What is Driver License Fraud?
Driver license fraud includes the use of another person's identity, the submission of counterfeit identity documents, and all other activities intended to obtain a driver license or ID card by a person or for a person who is not eligible for issuance of such a document.
Examples:
Presentation of counterfeit immigration documents (such as an I-94 or "green card") by an undocumented alien who is not eligible for a Florida driver license or ID card.
Presentation of a counterfeit birth certificate or social security card created on a personal computer by scanning a legitimate document and printing it out on a color printer after changing the identity information.
Presentation of a legitimate birth certificate belonging to another person.
In 2017, FLHSMV began issuing a new, more secure Florida driver license and ID card. Florida's new credential incorporates nearly double the fraud protection measures, providing residents the most secure over-the-counter driver license and ID card on the market today.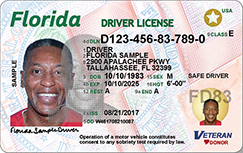 Driver license fraud is a crime. Anyone suspected of committing driver license fraud may be charged with any of a number of violations of state and/or federal law, including, but not limited to the following:
Section 322.212, Florida Statutes
Section 322.27 (1)(d), Florida Statutes
Section 322.32, Florida Statutes
Section 322.33, Florida Statutes
Although making and using fake ID's are a crime, it is not considered driver license or ID card fraud until such documents are used to obtain a driver license or ID card.
Ticket fraud is not driver license fraud. If you discover that someone else used your identity when they received a citation, and there is a conviction and/or license suspension on your driving record for an offense that you did not commit, this is not driver license fraud. The FLHSMV cannot remove a fraudulent citation from your driving record without the authorization of the court that submitted the conviction, and you must contact the court to prove to them that you were not the person cited. However, the FLHSMV will provide you with information about the citation and contact information for the court to help you begin this process.
How can I report driver license fraud? In an effort to make it easier for concerned citizens and employees to assist our Analysts in thwarting driver license fraud, the FLHSMV has set up an e-mail address for the reporting of suspected criminal activity. Customers and employees of the FLHSMV can e-mail request for a fraud investigation to: fraud@flhsmv.gov to report fraud directly to the Fraud Section. When reporting suspected driver license fraud, please try to include the victim's name, address, and contact information. If you are not the victim, please include your contact information. Also, any information about the suspect or the circumstances surrounding the fraud should be provided. Here is a copy of the Fraud Investigation Request Form.
For Victims Of Identity Theft:
If you are a victim of identity theft or you driver's license or ID card was lost or stolen, or your number was compromised or found on a dark website the FLHSMV wants to help you in any way that we can. First, contact your local law enforcement agency and make a police report. This is the first step to getting help from many state and federal agencies.
If you are the victim of identity fraud, and the thief has used your driver license or ID card number, please note that consumers release their driver license and ID card numbers to banks, stores, check verification companies, and dozens of other merchants every day.
Can I change the number on my driver license or ID card? No, unless there is a name change. The driver license/ID card number is based on your name, date of birth and gender. In the event you have a name change that causes your license or ID card number to change, please be sure to share the new number with your car insurance agent, your bank, and other financial institutions that use that number to identify you.
To further protect your identity with FLHSMV and prevent any unauthorized person(s) to obtain credentialed information in your name, the Department can place a "Verify ID Flag" on your Florida driver record. Listed below are some ways this flag can be helpful in preventing this person from continuing to pretend to be you.
Law enforcement will know that someone may be using your identity. The officer should require two or more pieces of identification from the person. However, if you are stopped by law enforcement, you too will be required to produce the pieces of identification.
All of Florida's driver licensing agents will know that someone may be using your identity. If someone tries to get a driver license or ID card in your name, our agents will require two or more pieces of identification before being issued. Again, you too must provide two pieces of identification.
When a court sends information to place on your driver record, we will mail you a letter. This letter will give you 45 days to contact the court involved and prove that you were not the person involved before we add the information to your record.
If you would like this flag added to your record, please send us a written request to the following address:
Bureau of Motorist Services Support
Driver License Fraud Unit, Mail Stop 84
2900 Apalachee Parkway
Tallahassee, Florida 32399
What to do if you are a victim of Identity Theft
Immediately call the fraud units of the three credit reporting companies. Ask that your file be flagged with a fraud alert.
Immediately contact creditors, by phone and in writing, to report fraudulent use. The Federal Trade Commission provides a uniform affidavit form accepted by most creditors.
Report the crime to your local police, sheriff's office or Florida Highway Patrol Bureau of Investigations office.
Notify the local Postal Inspector if you suspect an identity thief has filed a change of your address with the post office or has used the mail to commit fraud.
Contact the passport office to alert them to anyone ordering a passport fraudulently in your name whether you have a passport or not.
Call the fraud unit of the Division of Driver Licenses to see if another license has been issued in your name.
How to protect yourself from Identity Theft:
Citizens who take advantage of the FLHSMV automated renewal options, including renewal by phone, mail and the Internet, are reminded to shred or otherwise destroy their old licenses and ID cards when they receive the replacement license or card by mail. This will prevent identity thieves from stealing your personal information.
Purchase a copy of your driving record annually to see if the FLHSMV shows tickets that were not issued to you just as you would review your credit report for fraudulent activity.
Do not leave mail in your mailbox overnight, and stop your mail delivery if you are going to be away from home.
Do not carry extra credit cards, your Social Security card, passport or birth certificate except when absolutely necessary. Install a locked mailbox at your residence or use a post office box to reduce the chance of mail theft.
Pick up new checks at your bank.
Do not leave paid bills in your mailbox for the postal carrier to pick up.
Ask your financial institutions to add extra security protection to your account. Most will allow you to use an additional code when accessing your account.
Protect your Social Security Number at all costs. Do not let merchants write your SSN on your checks. Request merchants to use other forms of identification.
Never allow credit card numbers to be written on your checks.
Do not use your birth date or mother's maiden name as PIN numbers or passwords.
Shred all paperwork with financial and personal information on it before throwing it in the garbage.
Identity theft links and contacts:
Secret Service
U.S. Department of the Treasury
Website provides information about identity theft and many other types of fraud.
Federal Trade Commission
https://www.consumer.gov/idtheft/
(877) ID-THEFT or (877) 438-4338
The Federal Trade Commission website provides information to "deter, detect, and defend" against identity theft. The website also provides helpful links for victims of identity theft.
Postal Inspection Service
www.usps.com/postalinspectors/
Social Security Administration
https://www.socialsecurity.gov/
(800) 772-1213
Social Security Administration website provides information about and guidelines for reporting Social Security fraud.
Florida Attorney General
https://www.myfloridalegal.com
Driver License or ID Card Fraud Report Form
To report driver license or ID card fraud, complete this fraud investigation request.
Driver Privacy Protection Act
Florida residents have the right to protect personal information from disclosure on their driver license and motor vehicle records. Some exceptions do apply. For more information or to submit a suspected misuse complaint form, please click here.
Protecting Yourself from Consumer Fraud
A comprehensive list of consumer protection links from the Attorney General, including, auto repair and purchases, identity theft, internet services, price gouging, rain checks, sweepstakes and many more.
U.S. government central website for information about identity theft
This website is maintained by the Federal Trade Commission and contains government reports and Congressional testimony, law enforcement updates and links to helpful information about identity theft.