Inclement Weather Conditions
Emergency Preparedness


It is never too early to make a plan. The Department of Highway Safety and Motor Vehicles (FLHSMV) encourages all residents to have a disaster preparedness plan in place and have registered or updated their emergency contact information (ECI).
For real-time traffic and road condition reports, the Florida Highway Patrol (FHP) encourages motorists to visit the FHP Live Traffic Crash & Road Condition Report website. Florida drivers can also call 511 on their cell phone or visit Florida 511 online for up-to-the-minute information on traffic congestion, road construction, lane closures, severe weather and travel delays on interstates and major highways.
Visit floridadisaster.org to find information on shelters, road closures, and evacuation routes.
IF NO EVACUATION, STAY PUT. Avoid driving in heavy storms, and stay in a safe place after the storm. Be prepared to remain where you are for an extended period of time. Often, injuries and deaths occur in the aftermath of storms. Sightseers impeding roadways cause obstacles for emergency personnel responding to those in need.
IF AN EVACUATION IS ORDERED:
Make sure your vehicle is fueled up and well serviced before hitting the road. Fuel availability may be uncertain and what is available is likely to generate long lines.
Have a specific destination in mind and the route planned prior to departing. Be sure to carry necessary maps as mobile phone connections and navigation may be inconsistent.
Carry a supply of food and water for each person traveling in the vehicle.
Withdraw money early and have sufficient cash to cover food, gas and lodging for several days. ATMs may be empty or inoperable following a storm.
Pack a lot of patience and be prepared for delays. Do not wait to leave until a mandatory evacuation order is given. To alleviate traffic congestion, avoid the rush and depart sooner rather than later.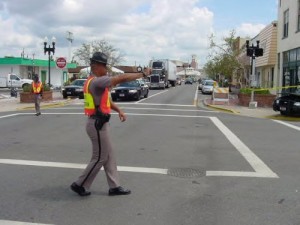 AFTER THE STORM:
If you have evacuated out of the area, be sure to stock up on any items that might be in short supply in the storm-affected area prior to returning.
Consider getting extra cash at a working ATM.
Fuel up your vehicle prior to getting to an area that might have limited availability due to power outages.
Follow any emergency instructions that may be displayed on digital message signs.
Visit our additional resources page for more information. For information on interrupted hours of service, please visit our office closure page.
FLHSMV encourages residents with a valid Florida driver license or ID card to register their emergency contact information (ECI). This vital program gives law enforcement immediate access to this information in cases of an emergency, making it easier to contact a family member or friend.