Driving Safety
STAY AT THE SCENE

From year to year, Florida has seen the amount of hit and run crashes remain steady, with nearly 25 percent of all crashes involving a hit and run. Although the majority of hit and run crashes only result in property damage, hit and run crashes can be deadly. The Stay at the Scene campaign aims to reduce the number of hit and run crashes in Florida by educating drivers on their responsibilities if involved in a crash and the serious consequences they face if they choose not to Stay at the Scene.
The penalties for hit and run drivers changed on July 1, 2014 when the Aaron Cohen Life Protection Act (section 316.027, Florida Statutes) was signed into Florida law. The statute is named after Aaron Cohen, a 31-year-old avid cyclist and father of two that was fatally struck by an alcohol impaired driver that fled the crash scene in February 2012 in central Florida. The hit and run driver was sentenced to two years in prison, a lesser sentence than what the motorist would have served had he been sentenced on a DUI manslaughter charge. The Aaron Cohen Life Protection Act imposes a mandatory minimum of 4 years for a driver convicted of leaving the scene of a crash resulting in a fatality.
Hit and Run Penalties
For more information, see Florida Statutes 316.061, 316.027.

Leaving the scene of the crash with:
PROPERTY DAMAGE
Second Degree Misdemeanor
Up to 60 days in prison and $500 fine
INJURIES
Second or third degree felony
Revoked license for at least 3 years
Up to five years in prison and $5,000 fine
FATALITIES
First degree felony
Revoked license for at least three years
Mandatory minimum of 4 years in prison, up to 30 years in prison and a $10,000 fine
If you are involved in a crash, stay at the scene and call for help. It's not just the law – you could save a life.
If you have information on a hit and run crash vehicle and/or driver, you can report it anonymously to Crime Stoppers. Click on the button below to see the active hit and run cases that FHP is investigating.

Hit and Run Press Conferences
Location
Date
Time
Location
Troop A – Pensacola
02/15/2018
10:00 a.m.
6575 North W. Street
Pensacola, FL 32505
Map to Location
Troop B – Gainesville
02/15/2018
10:00 a.m.
6300 NW 13th St.
Gainesville, FL 32653
Map to Location
Troop C – Headquarters
02/26/2018
10:00 a.m.
11305 N. McKinley Dr.
Tampa, FL 33612
Map to Location
Troop D – Headquarters
02/16/2018
10:00 a.m.
133 S. Semoran Blvd. Suite A
Orlando, FL 32807
Map to Location
Troop E – Headquarters
02/19/2018
10:00 a.m.
1011 NW 111th Ave.
Miami, FL 33172
Map to Location
Troop F – Ft. Myers
02/06/2018
10:00 a.m.
10041 Daniels Parkway,
Fort Myers, FL 33913
Map to Location
Troop L – West Palm Beach
02/21/2018
11:00 a.m.
Florida Department of Transportation
Palm Beach Operations Center
7900 Forest Hill Blvd.
West Palm Beach, FL 33413
Map to Location
Troop H – Headquarters
02/16/2018
10:00 a.m.
2100 Mahan Dr.
Tallahassee, FL 32308
Map to Location
Resources
Social Media Kit
Download the social media posts PDF and click on the thumbnails below to make posting on social media quick and easy!
#StayAtTheSceneFL Social Media Posts
Facebook Cover and Post Images: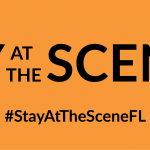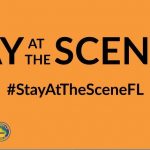 Twitter Cover and Post Images: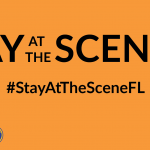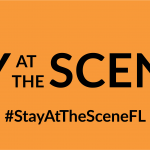 Instagram Image: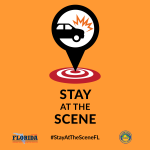 Additional Social Media Post Images: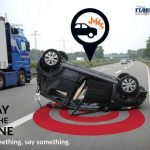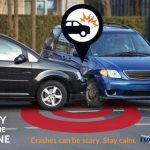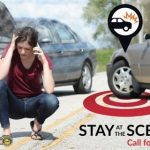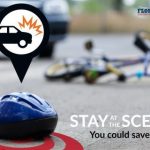 Print Media Kit
Stay at the Scene Poster – 11×17
Stay at the Scene Poster – 8.5×11
Data
2017 Statewide Hit and Run Crash by County
2017 Statewide Hit and Run Citations by County
2016 Hit and Run Campaign Evaluation Report
2017 Stay at the Scene Campaign Evaluation Report