Driving Safety
HIT AND RUN – BAD TO WORSE
Florida has seen the amount Hit and Run crashes remain steady over the years. Although the majority of Hit and Run crashes only result in property damage

, more than 180 people were killed in hit and run crashes in 2015.* The DHSMV and the Florida Highway Patrol's "Bad to Worse" campaign aims to reduce the number of hit and run crashes in Florida by educating drivers on their responsibilities if involved in a crash and the consequences they face if they leave a crash scene.
Audio
A crash is bad…leaving the scene makes it worse. (English)
A crash is bad…leaving the scene makes it worse. (Spanish)
If you have information on a hit and run crash vehicle and/or driver, you can report it anonymously to Crime Stoppers.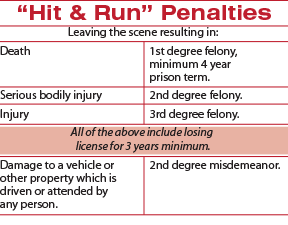 A few hit and run facts for Florida*:
In 2015, there were more than 92,000 hit and run crashes in Florida.
Of those, the Florida Highway Patrol worked more than 23,000.
Each year the percent of hit and run crashes stays steady, which means the problem of people fleeing the scene isn't getting better.
There were more than 19,000 injuries resulting from hit and run crashes, with over 1,200 of those involving serious bodily injury.
Vulnerable road users are particularly at risk. In fact, there were 186 hit and run fatalities in 2015, over half of which were pedestrians.
Approximately one out of every four pedestrian crashes resulted in the driver leaving the scene.
Under Florida law, a driver MUST stop immediately at the scene of a crash on public or private property which results in injury or death.
More than 80 percent of hit and run crashes result in property damage only.
If a driver flees the scene, the situation becomes even worse. Leaving the scene of a crash is a felony and a driver, when convicted, will have their license revoked for at least three years and can be sentenced to a mandatory minimum of four years in prison.
In 2015, 18-27 year olds received over a third of all hit and run citations issued, 70 percent of which were written for males.
The most important thing a driver can do when they are involved in a crash is to remain at the scene and call for help. Staying at the scene will not only spare a driver significant legal penalties, but may save a life.
The Florida Department of Highway Safety and Motor Vehicles encourages drivers to keep their eyes on the road, hands on the wheel and mind on driving.
* Please Note: All 2015 data is considered preliminary at this time and will change as new reports are submitted and updated. These results should be viewed as a snapshot of what currently exists in the repository as of 1/8/2016.
Resources