Driving Safety
Safe Summer Travel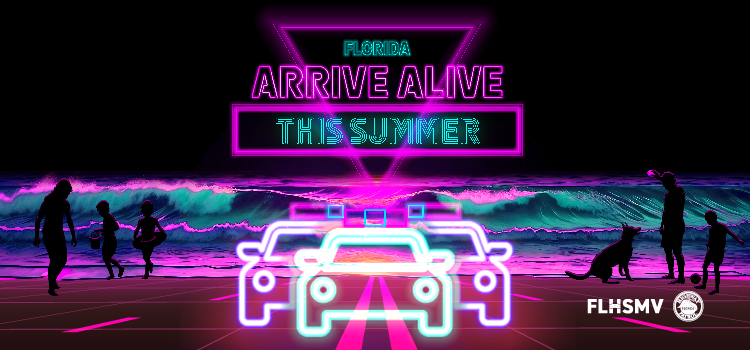 Traveling throughout Florida can be just as fun as getting to your destination. During the holiday and vacation seasons, Florida's roads can be some of the busiest in the country. The Florida Department of Highway Safety and Motor Vehicles (FLHSMV) is committed to the safety of all motorists on our roads, educating everyone on safe driving practices to always Arrive Alive.
Speeding – Slow Down, Stay Cool
As a motorist, it's your responsibility to know and obey the speed limit on each road you travel.
Speed limits are in place to keep you and those around you safe. Together, we can create a safer summer for all by slowing down and staying cool on the road.
In Florida, the speed limit will never be higher than 70 mph on highways. Slow down – no excuses.
Speeding is against the law and extremely dangerous. Obeying speed limits improves safety by reducing the probability and severity of crashes.
Last year, during the months of June and July, there were 107,048 crashes in Florida with 499 deaths and 2,385 serious bodily injuries.
During those two months, law enforcement issued 3,165 citations for unlawful speed, while 2,349 crashes resulted from excessive speed.
Motorists ages 18-33 had the highest number of crashes.
The 4th of July holiday is a dangerous time to travel. Over the past five years, on average for the three-day period of July 3-5, there have been 4,924 crashes, resulting in 1,794 injuries and 28 deaths.
Tire Safety and Vehicle Preparation – Road Ready Vehicle
Tires are your vehicle's first line of defense – worn, damaged, or improperly inflated tires can cause crashes.
According to the National Highway Traffic Safety Administration (NHTSA), drivers in the United States put more than 2,900 billion miles on their tires each year.
To ensure everyone's safety this summer, regularly inspect and maintain your tires.
Pump it up this summer – literally. Under inflated tires can overheat and endanger lives. Refer to your vehicle's owner manual for the recommended tire pressure.
Sun damage and age can cause headlights to yellow and become cloudy. Cloudy headlights can limit your ability to see and be seen on the road. If you have an older vehicle, consider changing the headlight casing or use restorative cleaners to improve visibility.
Properly functioning windshield wipers play a major role in safe driving in inclement weather. Hot, sunny climates like Florida can cause windshield wipers to deteriorate faster and need more frequent replacement. Periodically check windshield wipers and replace as necessary. Noisy or streaky wipers indicate its past time for replacement.
Buckle Up
The Dori Slosberg and Katie Marchetti Safety Belt Law, effective June 30, 2009, requires that all drivers, all front seat passengers and all passengers under the age of 18, fasten their safety belts.
Passengers 18 years or older will be charged with a violation if they fail to wear a seat belt when required by law. Drivers will be charged with a seat belt violation if any passenger under the age of 18 is not restrained with a seat belt or child restraint device.
Seat belts save lives, but only if worn correctly every That click reduces the risk of being injured or killed in a crash by almost 50 percent.
Wear your lap belt around your hips and wear your shoulder belt across your chest. The seat belt will not work if it is tucked behind you. Airbags are no substitute for seat belts.
Don't start your summer road trip without first making sure everyone is buckled properly.
Vehicular Heatstroke Prevention – Look Before You Lock
Never leave children, vulnerable adults, or pets unattended in a vehicle – even for a short period of time.
The inside of a vehicle can heat up by 20 degrees in just 10 minutes. A child's body temperature can rise three to five times faster than an adult's and heatstroke in a closed vehicle can occur when the temperature is as low as 57 degrees outside.
If you see a child, vulnerable adult, or pet locked in a hot car, take immediate action by calling 911.
Always check the back seat before leaving and locking your vehicle.
Florida law states that "a parent, legal guardian, or other person responsible for a child younger than 6 years of age must not leave the child unattended or unsupervised in a motor vehicle for a period in excess of 15 minutes" or "for any period of time if the motor of the vehicle is running, the health of the child is in danger, or the child appears to be in distress."
A violation of this law is a second-degree misdemeanor and can result in a fine of up to $500. Violations that cause great bodily harm, permanent disability or permanent disfigurement to a child are considered a third-degree felony.
Florida law, section 768.139, Florida Statutes, provides for the rescue of a vulnerable person or domestic animal from a motor vehicle. These good Samaritans may have immunity for damage to the motor vehicle if:

The vehicle is locked and there is no other reasonable way the person or animal to get out.
Has reasonable belief based upon the circumstances that entry is necessary because the person or animal is in imminent danger.
Notifies law enforcement or calls 911 prior to or immediately after entering the vehicle.
Uses no more force than is necessary; and
Remains with the person or animal until law enforcement or other first responder arrives.
For more information, please visit the Florida Department of Children and Families (DCF) website.
Impaired Driving Prevention
Under Florida law, DUI is one offense, proved by impairment of normal faculties by any substance or unlawful blood alcohol or breath alcohol level of .08 or above.
June historically has the third highest number of alcohol and/or drug confirmed crashes, following March and December.
While there was an average of 95 impaired-driving arrests each year between 2018 and 2022, there were also 143 alcohol-related crashes and 44 drug-related crashes, on average per year.
If you see an impaired driver on the road, do not hesitate to contact law enforcement or dial *FHP (*347). This call could save a life.
Plan ahead, designate a driver or call a ride service.
Driving impaired not only puts everyone on the roadway in danger, it can have serious legal and monetary consequences. Penalties for DUIs include expensive fines, license revocation and jail time. Convictions can remain on your record for 75 years.
Campaign Resources
Social Media Kit
Download the Social Media Posts PDF and click on the thumbnails below to make posting on social media quick and easy! Be sure to use hashtag #TravelSafeFL
Print Media Kit