Troop Boundaries & Information
Troop I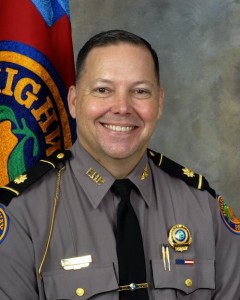 MAJOR JEFFREY DIXON
TROOP COMMANDER
The Troop I Commander oversees commercial vehicle enforcement operations for Florida's northern region encompassing Troops A, B, C and H. Troop I Headquarters is in Tallahassee.
Office of Commercial Vehicle Enforcement
---
Compliance Review
Captain Kenny Morris
Compliance review is an on-site/off-site examination of a motor carrier's operations, such as drivers' hours of service, maintenance and inspection, driver qualification, commercial driver's license requirements, financial responsibility, accidents, hazardous materials, and other safety and transportation records to determine whether a motor carrier meets the safety fitness standard.
Businesses and individuals who operate commercial motor vehicles to transport passengers or cargo in commerce must comply with applicable laws and safety regulations. Safety compliance and safe operations reduce fatalities, injuries, property damage, and hazardous materials incidents.
---
District Offices

Captain Ezra Folsom

Ocala Office
600 SE 25th Avenue
Ocala, FL 34471
Phone: 352-512-6630
Fax: 352-732-1426
E-Mail: MichaelBlair@flhsmv.gov
Tampa Office
11305 N. McKinley Drive
Tampa, FL 33612
Phone: 813-558-1815
E-Mail: BuchananFolsom@flhsmv.gov



Captain Steve Park

Panama City Office
6030 CR 2321
Panama City , FL 32404
Phone: 850-767-3665
Fax: 850-914-6385
E-Mail 1: JasonKing@flhsmv.gov
E-Mail 2: TimmyGoodman@flhsmv.gov
Pensacola City Office
6025 Old Bagdad Highway
Milton, FL 32583
Phone:850-981-3100 Ext "0"
Fax: 850-981-3034
E-Mail: StevePark@flhsmv.gov



Captain Vicki Thomas

Tallahassee Office
17 Commerce Boulevard
Midway, FL 32343-6601
Phone: 850-488-5140
Fax: 850-922-8017
E-Mail: AnthonyStone@flhsmv.gov
Lake City Office
1109 South Marion Avenue MS-2105
Lake City, FL 32025-5874
Phone: 386-961-7300
Fax: 386-961-7360
E-Mail 1: VickiThomas@flhsmv.gov
E-Mail 2: AaronButler@flhsmv.gov
T. B. A.
Troop Training Coordinator
---
FHP Station Addresses and Phone Numbers | Regional Communications Centers | Commercial Vehicle Enforcement Stations