Troop Boundaries & Information
Troop D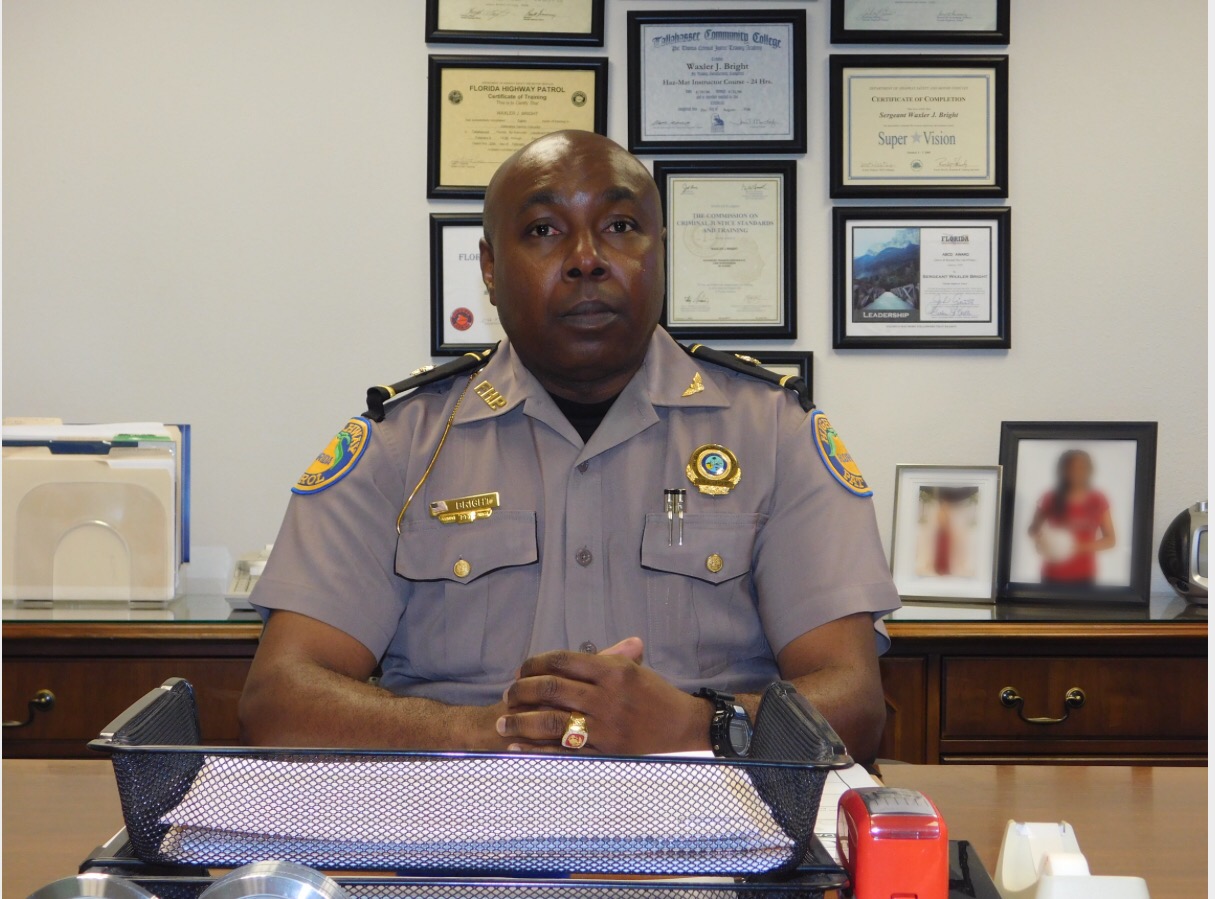 MAJOR WAXLER BRIGHT
TROOP COMMANDER
The Florida Highway Patrol is divided into ten (10) field troops statewide. Troop D in the largest of the divisions and is comprised of six (6) Central Florida Counties and divided into three (3) districts. Our Troop D Headquarters is located in Orlando 133 South Semoran Boulevard. In addition to our state-of-the-art FHP Office, we also house one of the most modern communications facilities. Our communications center is located in a traffic management center along with the Florida Department of Transportation's Intelligent Transportation System.
Our mission is to save lives and prevent injuries on our highways through strict traffic enforcement and education. Our task is the guardianship of over 400 miles of interstate and toll roads and 7100 miles of state and secondary highways to make them a safer place for you the motorist to travel.
While our primary task is traffic, we provide other critical law enforcement services as well. We cordially invite you to tour the Troop D Web Site in hopes that it will permit you to know us a little better and to reaffirm our goal to provide the best possible service to you in the highest tradition of our 75-year Florida Highway Patrol history.
---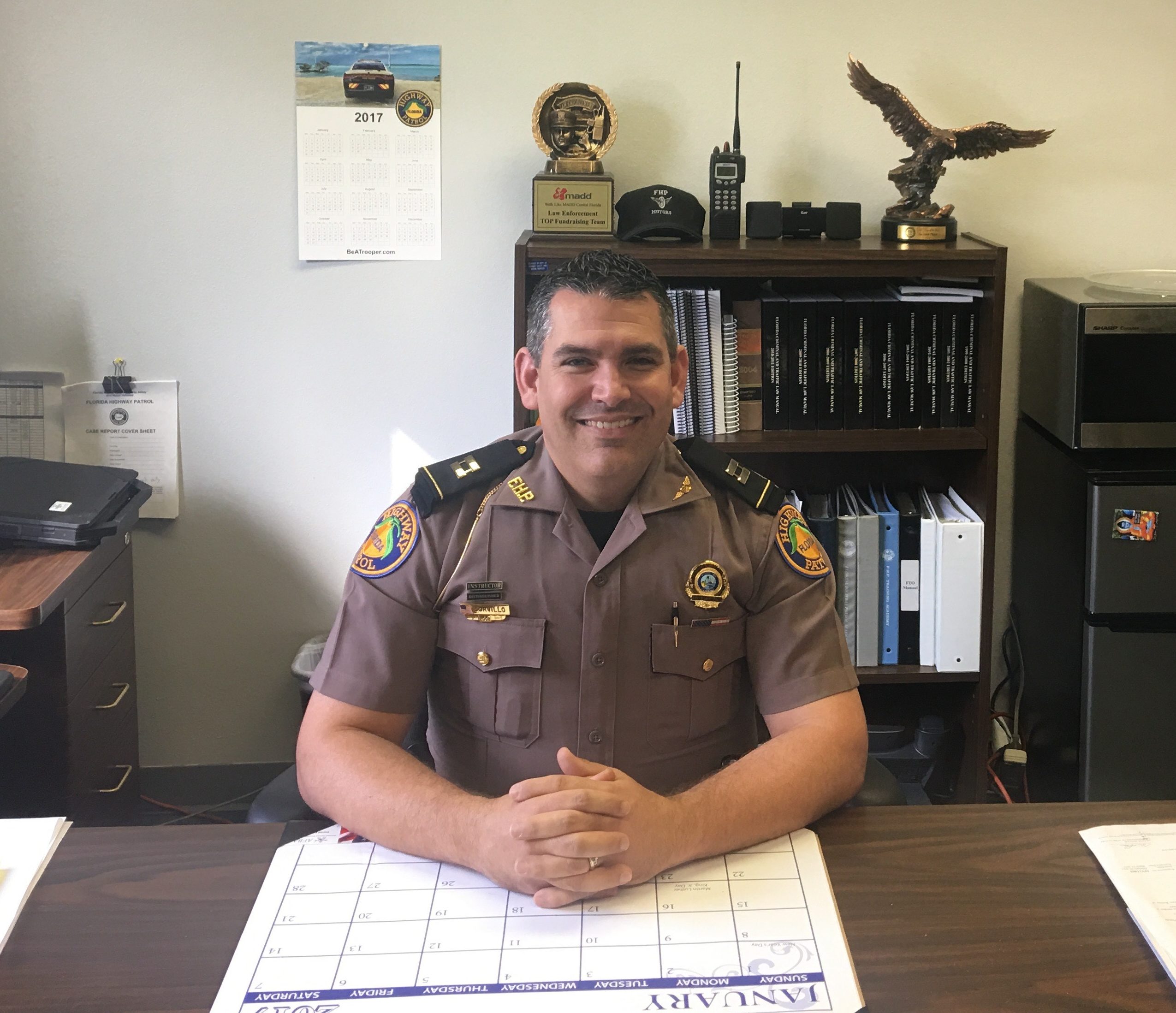 Captain Christopher Sorvillo
Orlando District I Commander
Captain Christopher Sorvillo is the district commander that oversees all of Troop D's specialty positions.  Captain Sorvillo is in charge of Traffic homicide Investigations, the Orlando motor unit, the Central Florida Expressway squad, the I-4 squad and the Criminal Interdiction Unit.  Troopers that work in Lake County are also assigned to this district.  This group is tasked with keeping tourists along with Central Floridians safe on our roadways.  Troopers assigned to theses squads have years of experience and specialized training for the fields of work that they do.
---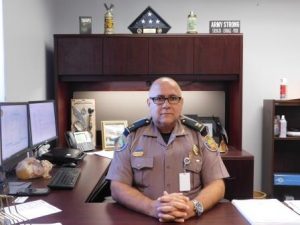 Captain Elias Sanchez
Orlando District II Commander
Troop D headquarters is located in Orlando and is the busiest district in the state. This district provided law enforcement services to residents and visitors for Orange and Osceola counties.  There are 9 squads in this district along with Troop D's elite DUI squad. Troopers in the district respond to over 4,000 crashes a month.  Thousands of national and international tourists travel to Orlando each year to visit the theme parks and surrounding areas. Troopers in the district combine traffic enforcement and education to keep motorists safe in Central Florida.
---
Captain Rodger Carpenter
Deland/Cocoa District Commander
Welcome to the Troop D, Deland/Cocoa District; encompassing the counties of Seminole, Volusia and Brevard.  The Deland portion of the district is home for numerous events, which include, but are not limited to:  Speedweeks and the 4th of July races at Daytona International Speedway, Bike Week, Biketoberfest and Spring Break.  The Brevard portion of the district is the gateway for numerous cruise ships, located at Port Canaveral and for space exploration enthusiasts, visiting Kennedy Space Center.  Both areas attract national and international visitors, especially with the world famous Daytona Beach.  I-95 is the main thoroughfare through both Brevard and Volusia Counties, but many other major roadways traverse the district.  All of these roadways present a significant challenge to Troopers, tasked with providing a safe and secure Florida.
The Deland Station is located at 1551 E. International Speedway Blvd, in Deland and the Brevard Station is located at 3775 W. King St., in Cocoa.
We hope you enjoy your visit to central Florida's east coast, where we strive to make Public and Highway Safety our Top Priority.
---
Motorcycle Squad
The Florida Highway Patrol's Troop D Motorcycle Squad is a ten member squad consisting of nine troopers and a sergeant. This group is responsible for patrolling Central Florida's roadways and keeping the citizens of this state, and the millions of tourists who come to experience our areas theme parks and other attractions, safe during their travels. These troopers accomplish this mission by strict enforcement of all traffic laws.
The motor unit is also trained in dignitary protection and have escorted numerous dignitaries, collegiate players and candidates that travel to this area.
This group's hard work and dedication to serving the citizens of Florida can be summed up best by the three words of the Florida Highway Patrol's motto Courtesy, Service and Protection.
---
Traffic Homicide Investigations
The traffic homicide investigations unit is a highly trained group of corporals specializing in traffic crash reconstruction and investigation. They investigate all fatal traffic crashes handled by this agency as well as those which may lead to fatal injuries and those crashes requiring specialized investigative resources. Each Troop D District has a group of these investigators assigned.
The traffic homicide investigations unit in Orlando operates a SPECIAL MOBILE CRASH RESPONSE VEHICLE to work major crash scenes. The van is equipped with lights, generator, computers, and communications gear to provide additional investigative resources at the scene.
---
Orlando Communications Center
The Florida Highway Patrol has just moved in to a state of the art communications center. In a partnership with the Florida Department of Transportation, a new Traffic Management Center has been constructed in Orlando which houses the new FHP 800Mhz communications center and the Department of Transportation's Traffic Management facility. From this point, highway camera systems are used to monitor the Interstate 4 corridor and to transmit messages to electronic overhead signs to warn motorists of traffic conditions.
Our new 800mhz digital trunking radio system is the first of it's kind in the state, providing unlimited capabilities for our future communications needs. Recently, the communications operations from the Florida Department of Law Enforcement, The Department of Transportation's Motor Carrier Compliance Division, and the Florida Division of Alcohol and Tobacco have moved into the facility. Pictured in the foreground are the radio communications consoles with the traffic monitoring screens shown in the background.
---
Lieutenant Kim Montes
Troop Public Affairs Officer
The Troop D Office of Public Affairs is responsible for providing information to the public, responding to inquiries from the statewide news media, conducting traffic safety programs, and managing various highway safety programs. Request for traffic safety program presentations can be made by contacting Lt. Kim Montes at 407-249-7195 or E-Mail KimMontes@flhsmv.gov.
---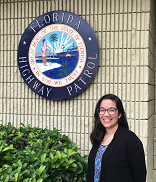 Valeria Cordero-Sanchez
FHP Troop D Victim Advocate
ValeriaCordero-Sanchez@flhsmv.gov
Office Number: 407-737-2300
Fax Number: 407-737-2373
---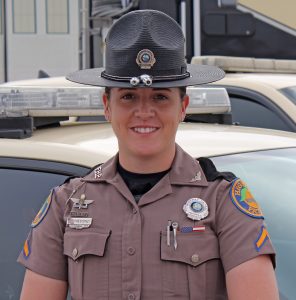 Trooper Tara Crescenzi
Recruiter/Background Investigator
TaraCrescenzi@flhsmv.gov
Office Number: 407-249-6587
Fax Number 407-737-2381
---
For anyone interested in a career as a Florida State Trooper click on
BeATrooper.com

The minimum requirements are:
*Minimum 19 years old
*U.S. Citizen
*High School Diploma
*Valid Driver's License
*Willing to work anywhere in Florida
And one of the following:
*One year sworn or non-sworn law enforcement experience
*Two years of active and continuous U.S. Military Service
*Two years of public contact experience
*Thirty semester-hours at an accredited college or university
For questions about Law enforcement employment with the Florida Highway Patrol, please visit BeATrooper.com to contact your local recruiter.
---
 LtoR: Orlando, Deland and Cocoa Stations
FHP Station Addresses and Phone Numbers | Regional Communications Centers