Troop Boundaries & Information
Troop B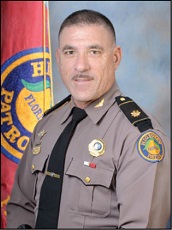 MAJOR WILLIAM TIERNEY
TROOP COMMANDER
When entering Florida on I 75, you might refer to it as the "Interstate 75 Gateway to Florida", you are traveling through the Troop B area of the Florida Highway Patrol. Troop B includes nine of Florida's sixty-seven counties and covers 6,696 square miles. Florida has a total area of 58,560 square miles. Land area is 54,252 square miles and water area is 4,308 square miles. Once entering Florida on I 75 you travel 447 miles before arriving in Key West, that is the North to South distance. The East to West distance is 361 miles. The distance from Pensacola to Key West is 792 miles by road. Troop B is unique in that two interstate highways travel through the area. On Interstate 75 you travel north to south with 93 miles of highway in Troop B. Interstate 10 is the east west link with 62 miles of highway in Troop B. Florida has a population of nearly 15 million. Population within Troop B Counties exceeds 431,000. Florida is the fourth largest state in population and had a 33% increase during the 1980's.
---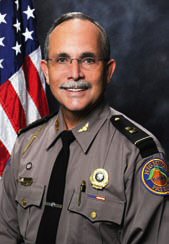 Captain Mike Burroughs
District Commander
This district covers Columbia, Suwannee and Hamilton counties. Forty-five troopers are stationed in these three counties that include Interstate 75 and Interstate 10. The Lake City FHP Station is located at 1350 U.S. Highway 90 West, Suite 101, in Lake City, FL. The Lake City office is a full service office for Columbia, Suwannee and Hamilton counties. Troopers in the Lake City District are responsible for patrolling 635 miles of state and federal designated highways. There are also 1,613 miles of paved county roads in this district. Radio communication is operated out of the Jacksonville FHP Regional Communications Center.
Florida has a long and interesting history. Columbia County was named for Christopher Columbus. The county seat was once named Alligator but the Florida Legislature changed the name to Lake City because of the myriad of lakes that surround the area. The annual Olustee Battle Festival and Civil War Battle Reenactment of 1864 attracts some 2,000 reenactors each February and is viewed by some 40,000 spectators. The Olustee Battle Reenactment attracts individuals from all over this country who join in commemorating this historic moment in history and in celebrating the accomplishments seeded by those spirited pioneers of this country. The Olustee Battlefield State Historic Site is a state park open all year with an interpretive center that offers exhibits and information on the Olustee Battle of 1864. Suwannee County received its name for either Cherokee sawani, meaning "echo river," or corruption of Spanish San Juan. "The Suwannee River" (Old Folks at Home) version was designated the official Florida State Song by legislative action in 1935. The Suwannee River flows southerly from the Okeefenokee Swamp in Georgia making its way through Suwannee County headed for the Gulf of Mexico. This river also forms the northerly and westerly boundaries for Suwannee County. Stephen C. Foster, one of America's best loved musical storytellers, wrote "The Suwannee River" in 1851. A memorial center at White Springs honors Foster who authored about 200 songs during his career. The Stephen Foster State Folk Culture Center is a 247 acre state park that houses a museum, carillon tower, craft square, craft shop and camping facilities. The annual Folk Festival attracts thousands of visitors and is one of many special events sponsored by the Florida Park Service each year.
---
TBA
District Commander
This District covers Alachua, Dixie, Gilchrist, Levy and Lafayette Counties comprise the Gainesville District. Some forty-six troopers patrol these counties that include Interstate 75. Gainesville (right) and Cross City (left) have FHP Stations. The Gainesville office is a full service office for Alachua County. A driver's license issuing office is located close to the Gainesville FHP Station. The Cross City office sells crash reports for Dixie, Gilchrist, Levy and Lafayette counties. Troopers in the Gainesville District are responsible for patrolling 649 miles of state and federal designated highways. There is also 1,573 miles of paved county roads in this district.
One point of interest is The University of Florida, located in Gainesville, Alachua County. The University has a student enrollment of some 40,000 and employees some 14,000 personnel. The University of Florida is the state's oldest, largest and most comprehensive university. It is also the seventh largest university in the nation. The university has a 2,000-acre campus and 875 buildings including 158 with classrooms and laboratories. The northeast corner of the campus is listed as a Historical District in the National Register of Historical Places. The 22 resident halls have a total capacity of more than 6,000 students. Outstanding campus facilities include the Florida Museum of Natural History, Center for the Performing Arts, Harn Museum of Art, University Art Gallery, Brain Institute, intensive-care hyperbaric chamber, microkelvin facility, 100-kilowatt research reactor, world-class bell carillon, 99-rank Anderson Memorial pipe organ, and a public television, a public radio and two commercial radio stations. The Florida Gators football team claimed the national title in 1996 and other Florida athletic programs have claimed at least one national team title in 11 of the past 16 years.
---
Captain Gregory S. Lamont
District Commander
The Ocala District Headquarters serves Marion County with 28 assigned troopers. Marion County was established in 1844, and named for General Francis Marion, "Swamp Fox" of the revolutionary war. The beautiful Ocala National Forest covers most of the eastern portion of the county. Places of interest include Silver Springs and Don Garlit's Museum of drag racing. Ocala is well known for breeding and training many famous racing horses, including Silver Charm.
Ocala Area Information and History: The population is over 280,000 for Marion County and 60,000 for the City of Ocala. The amount of land area in Ocala is 74.747 sq. kilometers. The amount of surface water is 0 sq. kilometers. Ocala elevation is 104 feet above sea level. Learn More
---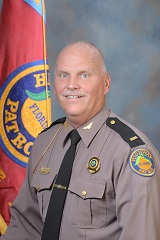 Lieutenant Patrick Riordan
Troop Public Affairs Officer
The Troop B Office of Public Affairs is responsible for providing information to the public, responding to inquiries from the statewide news media, conducting traffic safety programs, and managing various highway safety programs. Request for traffic safety program presentations can be made by contacting Lt. Patrick Riordan at 386-754-6286 or email at patrickriordan@flhsmv.gov.
---
LtoR: Lake City, Gainesville, Cross City and Ocala Stations
FHP Station Addresses and Phone Numbers | Regional Communications Centers