Vessel Titling and Registrations
Personal Watercraft
All vessels with motors, including personal watercrafts (PWC), operating on Florida waters must be registered and titled. As with other vessels, PWCs must also display Florida registration numbers, hull identification numbers (HIN) and valid decal (see image below).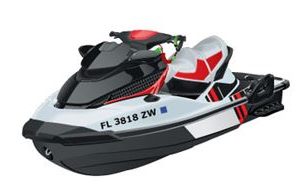 Vessel registrations and titles may be obtained by the vessel owner from the county tax collector or license plate agent.
A person must be at least 14 years of age to operate a PWC in Florida. Anyone born on or after January 1, 1988 is required to either have successfully completed a National Association of State Boating Law Administrators (NASBLA) approved boating education course or have passed a course equivalency or temporary certificate examination. Additionally, they must have in their possession a boating education ID card and a photo ID card when operating a vessel with a motor of ten horsepower or more in Florida.
For more information regarding regulations for PWC, visit the Florida Fish and Wildlife Conservation Commission (FWC) website here: https://myfwc.com/boating/regulations/