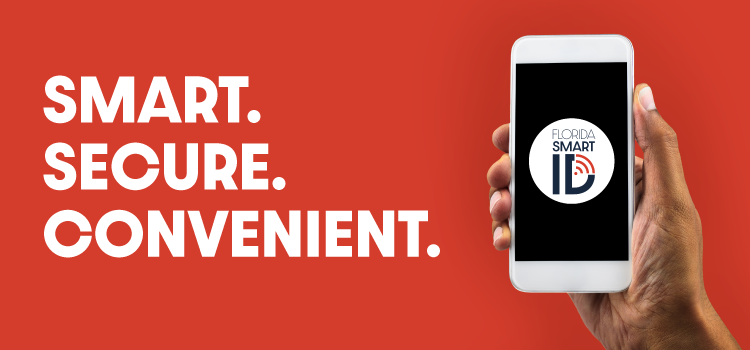 The Florida Department of Highway Safety and Motor Vehicles (FLHSMV) is committed to modernizing nearly every aspect of what we do and how customers access our services. As part of that sustained commitment, the state of Florida is stepping into the future and developing an intuitive mobile driver license – Florida Smart ID. The Florida Smart ID app is a secure version of your driver license, which can be downloaded on your smart device when launched. It is not simply a photo of your license. When used with an associated Florida Smart ID Verifier, customers can provide a safe, trusted and contactless proof of identity or age.
After downloading and authenticating, Florida motorists will simply launch their Florida Smart ID app, select the type of verification needed, and display the QR/barcode on their smart device to be scanned for verification. The smart device does not need to leave the owner's hand when being verified by a retailer or by law enforcement, making Florida Smart ID a contact-free and convenient way to display proof of identity or age.
In the future, Florida residents will be able to apply for a Florida Smart ID that is easily accessible on iOS and Android devices, including smartphones, tablets and other smart devices. Florida Smart ID is an optional tool for Floridians as a convenient, digital and secure backup to your physical Florida driver license. It does not replace the physical driver license, which will still need to be carried when operating a motor vehicle.
Smart
Florida Smart ID is an application-based version of your driver license located on your smart device scanned and verified by a companion Florida Smart ID Verifier app.
Secure
Protected by high-tech security features, Florida Smart ID will provide ease of mind that your personal information is secure and only those with your permission can see it.
Convenient
When launched, Florida motorists can download and activate the optional and easy-to-use Florida Smart ID for a contact-free and convenient way to display proof of identity or age.
If you have questions regarding Florida Smart ID, please email FloridaSmartID@flhsmv.gov.