Purple Heart Award
Fallen Trooper Receives Purple Heart Posthumously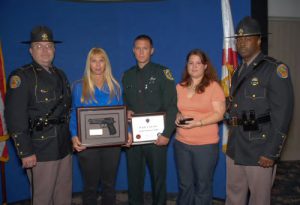 On May 3, law enforcement officers across the state met in the Capitol Courtyard in Tallahassee to honor Florida's law enforcement officers who lost their lives in the line of duty in 2009. Among the spectators attending the ceremony was the family of Florida Highway Patrol Sgt. Nick Sottile. Sottile joined the Patrol on March 21, 1983, and was a member of the 68th recruit class. Upon graduation, he was assigned to Miami, Troop E, until Dec. 19, 1986, when he returned to his home town in Highlands County. On Jan. 12, 2007, Sottile was on patrol in Highlands County, when he observed a traffic violation and conducted a traffic stop on U.S. 27 near Whitmore Road to take appropriate enforcement action. During the traffic stop, he was shot and killed.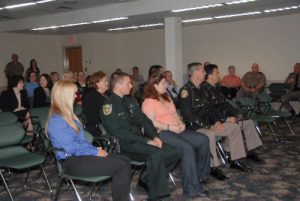 FHP held a ceremony, also on May 3, at the Neil Kirkman Building, where Director, Col. John

Czernis, presented Sottile's family with a purple heart, awarded posthumously, along with the sergeant's service weapon. Sottile's wife, Elizabeth; daughter, Heather; and son, Nick II attended the ceremony at the Department's headquarters.