Member Recognition
2013 Trooper of the Year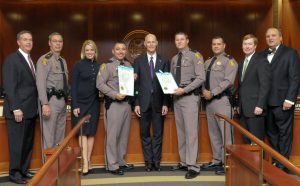 Trooper of the Year  Awarded to Two of Florida's Finest
Governor Rick Scott, Attorney General Pam Bondi, Chief Financial Officer Jeff Atwater and Commissioner of Agriculture Adam Putnam, sitting as the Florida Cabinet, honored Sergeant Alvaro Feola and Trooper Robert Ivey as the Florida Highway Patrol's 2013 Troopers of the Year.
Feola and Ivey were selected from more than 100 deserving nominees for their heroic efforts in saving the life of a motorist who was trapped in a burning vehicle last year. The 2013 recognition was presented by Commissioner Putnam on Nov. 19, 2013.
"I'm proud to recognize Sergeant Alvaro Feola and Trooper Robert Ivey with the Florida Highway Patrol Trooper of the Year award," said Commissioner Putnam. "Sergeant Feola and Trooper Ivey demonstrated true heroism by risking their own lives to save the life of a fellow Floridian in need. I want to thank Sergeant Feola and Trooper Ivey, and all Florida Highway Patrol troopers, for their commitment and service to the state of Florida."
On January 14, 2012, Feola and Ivey responded to a traffic crash that occurred on the Florida Turnpike in St. Lucie County. When they arrived at the scene, they found a driver trapped inside a vehicle that was on fire. As the vehicle was filling up with smoke, Feola was able to break out out a window of the vehicle and Ivey proceeded to enter the smoke-filled car and cut the seat belt, freeing the driver. Both Troopers then pulled the driver from the burning vehicle and to a safe location. Within seconds of dragging the driver out of the vehicle, the vehicle became fully engulfed. Without their quick response and decisive actions, there could have been grave consequences.
Both men follow in the footsteps of another great trooper, Sgt. Mary Gordino, the recipient of last year's Trooper of the Year award. Sgt. Gordino was the field training officer for Sgt. Feola who then served as Trooper Ivey's field training officer.
The Trooper of the Year award was created in 1965 by the Florida Petroleum Council to recognize Florida Highway Patrol Troopers for the work they do each day keeping Floridians and visitors safe on our roads.
The FHP Advisory Council provided a Glock weapon to both Feola and Ivey with the engraving of "2013 Trooper of the Year", which was presented at the FHP Training Academy.
Congratulations to Feola and Ivey for their extraordinary achievement and for their service and dedication to the state of Florida