Member Recognition
2009 Trooper of the Year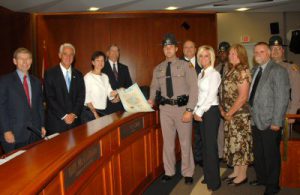 Florida Cabinet Honors Trooper of the Year
May 27, 2009, the Florida Cabinet honored Trooper Joshua Earrey when they named him the 2009 Trooper of the Year for the Florida Highway Patrol. Earrey is assigned to FHP's Contraband Interdiction Program as a K-9 handler in Troop G in Jacksonville, and he has been with the Patrol since February 2001. Earrey made more than 1,200 traffic charges and 280 drug-related charges during the past year. He is a member of the North Florida High Intensity Drug Trafficking Area Task Force.
On Oct. 17, 2008, Trooper Earrey observed a vehicle as it entered Normandy Boulevard in Jacksonville from a grocery store parking lot. He became suspicious of criminal activity when he saw the driver maneuver recklessly out of the parking lot.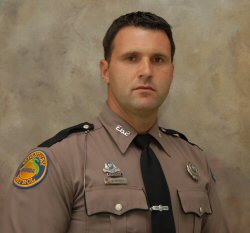 Earrey attempted to stop the vehicle but when the driver failed to comply, Trooper Earrey followed the suspect for a short distance before turning into a residential neighborhood. As he observed the vehicle turning into the parking lot of an elementary school, he traveled to the rear of the school where he saw the driver flee on foot. Earrey exited his patrol vehicle and pursued the suspect on foot through a wooded area, apprehending the suspect without further incident.
Earrey learned that the suspect had just carjacked the vehicle at gunpoint from a woman and her small child and had fled from Jacksonville Sheriff's officers. Trooper Earrey later located a revolver in a ditch where the suspect had travelled during their foot pursuit. The carjacking victim responded to the scene and identified the suspect as the perpetrator of the crime.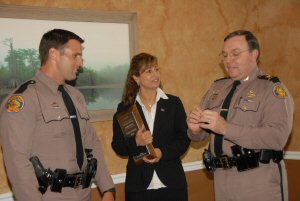 "Trooper Earrey displayed extreme courage at great personal risk to apprehend a violent criminal, and we are all safer because of his actions," said Colonel John Czernis, director of the Florida Highway Patrol. "We are proud to honor him with this well deserved award."
The Florida Petroleum Council developed the Trooper of the Year award program more than 40 years ago to recognize troopers who go above and beyond the call of duty.