Member Recognition
2004 Trooper of the Year
FHP Trooper of the Year Announced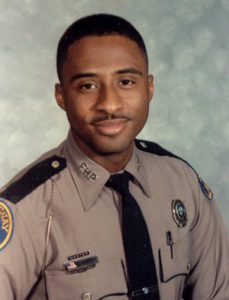 Colonel Chris Knight, Director of the Florida Highway Patrol, announced today that Trooper Sean Brammer has been selected as the 2004 Trooper of the Year for his quick response and administration of CPR that saved the life of a teenage boy.
Trooper Brammer will be officially recognized as FHP Trooper of the Year by Governor Jeb Bush and Cabinet members during today's Florida Cabinet Meeting. The Florida Petroleum Council has sponsored the Trooper of the Year Award since 1965. The award is presented annually to an outstanding trooper in recognition of acts of heroism or exceptional performance of duties. Trooper Brammer was selected for this prestigious award based on the following incident:
While attending church services last October in Miramar, Florida, Trooper Brammer observed a teenage boy collapse in his chair. Trooper Brammer immediately responded by laying the boy on his back and checking for a pulse. Finding a faint pulse, Trooper Brammer attempted to revive him with smelling salts, but the boy did not respond. Then, after finding no pulse, Brammer began CPR with assistance from a citizen. During Trooper Brammer's second cycle of CPR, the boy began to breathe again. Soon after, Miramar Fire Rescue arrived to transport the teenager to Hollywood Memorial Hospital where he subsequently recovered.
Trooper Brammer acted in the highest tradition of the Florida Highway Patrol, demonstrating that he is a trooper whether he is on patrol or not – he is always on the job! Trooper Brammer is hereby commended for his life saving actions!
Trooper Brammer is a seven-year veteran of the Florida Highway Patrol, assigned to Troop L-Davie District.