Member Recognition
2003 Trooper of the Year
Rios Selected as Trooper of the Year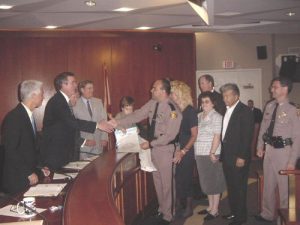 Colonel Chris Knight has announced that Trooper Luis Noel Rios has been selected as the 2003 "Trooper of The Year" for his quick actions and assistance in helping the victims of an Amtrak train derailment near Crescent City where 166 passengers were injured and 4 killed.
Trooper Rios was officially recognized as FHP Trooper of The Year by Governor Jeb Bush and Cabinet members during their May 28th Florida Cabinet meeting. The Florida Petroleum Council has sponsored the Trooper of The Year Award since 1965. The award is presented annually to an outstanding trooper in recognition of acts of heroism or exceptional performance of duties. Trooper Rios was selected for this prestigious award based on the following incident: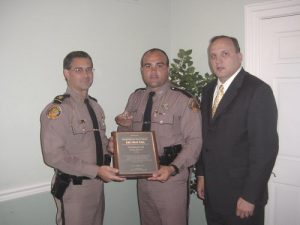 On April 18, 2002, Trooper Rios was investigating a traffic crash in Crescent City when he received a call about an Amtrak train derailment in the area. Trooper Rios immediately responded and quickly arrived on the scene to assess the severity of the situation and to relay vital information to the FHP communications center and other responding emergency medical personnel.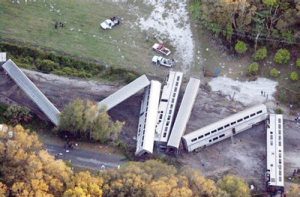 A total of twenty-one cars had derailed: seven auto transporters and fourteen passenger cars. The derailed cars were violently thrown from the tracks and overturned onto their sides, trapping the passengers inside. The undercarriage and coupling devices of the passenger cars were charged with 2,000 volts of electricity. Nevertheless, without regard for his own personal safety, Trooper Rios climbed over and through high voltage wires to reach dozens of crash victims in need.
Trooper Rios remained inside the overturned passenger cars for nearly two hours, climbing from car to car, rendering first aid to injured passengers, directing those who could walk to safe exit points, and continuing his rescue efforts to the point of near exhaustion until all of the passengers were safely removed from the wreckage.
Trooper Rios is a 5-year veteran of the Florida Highway Patrol assigned to the Contraband Interdiction Program in St. Johns County.