Member Recognition
2002 Trooper of the Year
Florida Highway Patrol Announces Trooper of the Year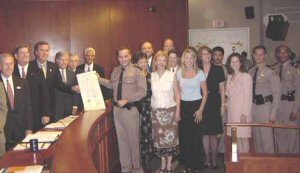 Trooper Andrew J. Maurer has been selected as the 2002 Trooper of the Year, for his lifesaving actions at the scene of a day-care fire near Orlando.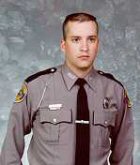 Trooper Maurer was officially recognized as FHP Trooper of the Year by Governor Jeb Bush and Cabinet members during a Florida Cabinet Meeting on August 27, 2002. The Florida Petroleum Council has sponsored the Trooper of the Year Award since 1965. The award is presented annually to an outstanding trooper in recognition of acts of heroism or exceptional performance of duties. Trooper Maurer was selected for this prestigious award based on the following incident:
On May 8, 2001, at approximately 3:19 p.m., Trooper Maurer was responding to the scene of a traffic crash in Orange County when he observed thick black smoke coming from a nearby building. The building, located on Chipola Circle at Oak Ridge Road, near Orlando, was a day-care center.
Several small children and a day-care worker were running from the structure. The fire department had not yet arrived. Trooper Maurer quickly radioed for their assistance and entered the burning building. Trooper Maurer discovered other children were still within the building and led them to safety. He then made an additional check of each room to insure everyone had safely exited the building. Due to the assistance provided by Trooper Maurer, none of the children were injured.