Member Recognition
1999 Trooper of the Year
Florida Highway Patrol Trooper of the Year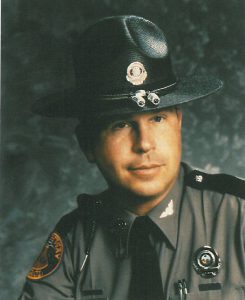 Florida Highway Patrol Trooper Neil P. Moore, Troop K, West Palm Beach, has been selected by the Patrol as the 1999 Trooper of the Year for his lifesaving actions at the scene of a traffic crash.
On October 21, 1998, at 1:30 PM, Trooper Moore came upon a traffic crash on the Florida Turnpike at the 104 mile marker south bound in Palm Beach County. Trooper Moore immediately determined that the crashed vehicle had ended up submerged in a canal with the driver trapped inside.
Trooper Moore quickly called for Emergency Medical Services, enlisted the assistance of two civilians, removed unnecessary equipment from his person, and made a reconnaissance dive into the canal. This dive revealed a vehicle on its left side, an unconscious driver fully belted into the driver's seat, and all windows in the closed position. Trooper Moore surfaced, obtained a knife, and redove to the vehicle.
On the second dive, Trooper Moore was able to break the right front window, enter the vehicle through that window, cut the safety belt, and pull the unconscious driver out of the vehicle. With the assistance of the two civilians, Trooper Moore was able to get the unconscious driver to shore. In doing so, Trooper Moore suffered numerous cuts to his arms and hands.
A quick assessment of the driver's vital signs indicated no pulse and no breathing. Trooper Moore and one civilian immediately began administering Cardio Pulmonary Resuscitation (CPR). Within minutes, these two individuals had restored breathing and a heartbeat to the near victim, Mr. Robert James Flowers.
Trooper Moore, with eight years experience on the Florida Highway Patrol, was well aware of the many hazards to himself, his recruited assistants, and to his wife and children when he chose to try to save the life of an unknown individual. Through his courageous actions and his dedication to duty and fellow man, he ignored these dangers and saved a human life. We can expect no more from any man.
Trooper Neil P. Moore is hereby commended for his act of heroism and is hereby recognized as a most worthy recipient of the Florida Highway Patrol's most distinguished award, the Medal of Valor; and as a most worthy recipient of the Florida Highway Patrol's most distinguished honor, Trooper of the Year.