Member Recognition
1997 Trooper of the Year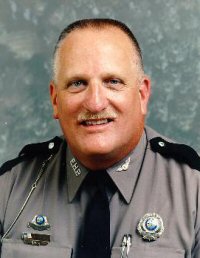 On August 28, 1997, the Florida Highway Patrol announced that Trooper Frank C. Yodonis had been selected for the prestigious Trooper of the Year Award for 1997. Trooper Yodonis is stationed in Lake Wales.
Trooper Yodonis was officially recognized as FHP Trooper of the Year by the Governor and Cabinet during the August 28, 1997, Florida Cabinet Meeting. Later that day, Trooper Yodonis was honored again during a luncheon sponsored by the Florida Petroleum Council at the Radisson Hotel in Tallahassee. The Florida Petroleum Council has sponsored the Trooper of the Year Award since 1965. The award is presented annually to an outstanding trooper in recognition of acts of heroism or exceptional performance of duties.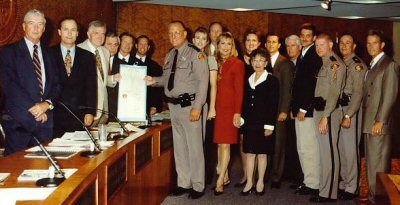 Trooper Yodonis was selected as Trooper of the Year based on his actions which resulted in the rescue of a female carjacking victim.
On November 11, 1996, at 8:00 p.m., Trooper Yodonis observed a vehicle pulling off onto the shoulder of Cypress Gardens Boulevard, in Polk County, and turning the headlights of the vehicle off. As Trooper Yodonis turned around on the vehicle to investigate, he noticed that the brake lights were being tapped, as if to draw attention to the vehicle. As Yodonis exited his patrol car and approached the 1996 Honda from behind, he noticed a set of car keys on top of the vehicle and observed the driver, CindySanchez, still in the car.
As he approached the vehicle, Trooper Yodonis noticed that Ms. Sanchez was shaking and crying. Yodonis asked the passenger, who was standing by the passenger door, if everything was all right. The passenger, Rubian Melendez, replied that everything was fine, that they had just had a family argument. Yodonis then looked at Ms. Sanchez, who mouthed "he has a gun!".
At that time, Melendez pulled out a .38 caliber revolver and pointed it at Trooper Yodonis, at which time Yodonis grabbed him in a bear hug and successfully disarmed him.
Further investigation revealed that Ms. Sanchez was a victim of an armed carjacking that the Polk County Sheriff's Office was investigating. Melendez was turned over to the Polk County Sheriff's Office where he was charged with Armed Carjacking, Armed Robbery, False Imprisonment, Battery on a Law Enforcement Officer, and Resisting Arrest with Violence.
Trooper Yodonis is a 25-year veteran of the Florida Highway Patrol.