FHP Announces Graduation of Lateral Recruit Class 17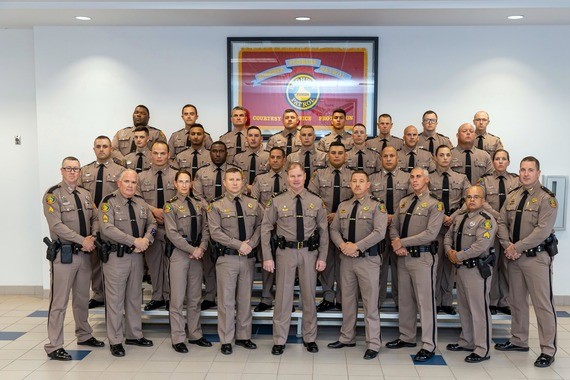 ~More state troopers to promote safety on Florida's Roadways~
TALLAHASSEE, Fla.-The Florida Highway Patrol (FHP) held a graduation ceremony last week for troopers who completed the lateral recruit class (LRC) at the FHP Academy. The LRC requires participants to have at least two years of prior law enforcement experience. Out-of-state certified officers are accepted after their law enforcement certifications are transferred to Florida.
"In Florida, law enforcement is a proud and supported institution," said Executive Director Dave Kerner. "We have the support of our Governor and the support of our citizens because we actively work to ensure their safety, as seen in Florida's 50-year crime low. The recruits who graduated today are eager to join their troops in enforcement efforts to safeguard your community, roadways, and the entire state of Florida."
"I am proud to welcome these experienced officers into the ranks of the Florida Highway Patrol" said FHP Colonel Gary Howze II. "These troopers will carry forward the Patrol's tradition of Courtesy, Service, and Protection to residents and visitors of the Free State of Florida."
The graduating class of 24 lateral recruits consisted of six members with previous military experience (Army, Marine Corps) and two who moved to Florida from out of state (Tennessee, Virginia).
Courtesy, service, and protection are FHP's core values. The men and women who graduated made an oath to the citizens of the State of Florida, and when saying it, they promised to deliver a deliberate public expectation. FHP Troopers are often described as Florida's finest because of the incredible support, professionalism, and service they provide to their community.
For more information on becoming part of Florida's proud law enforcement family visit BeAFloridaHero.com or, to find out more about Florida's Finest visit BeATrooper.com.
###
The Florida Department of Highway Safety and Motor Vehicles (FLHSMV) provides highway safety and security through excellence in service, education, and enforcement. Learn more on our website.
The Florida Highway Patrol strives to achieve core values of courtesy, service, and protection. It is FHP's job to help ensure the safety and welfare of millions of Florida's residents and visitors every day.
To learn more about FHP or how to become one of Florida's Finest, visit BeATrooper.com.