Multi-Agency Strikeforce Nets Over 250K in Seized Assets, 65 Felony Charges, and 20 Drug Charges While Hosting Inaugural B.I.T.E. Back Operator Training with Out-of-State Law Enforcement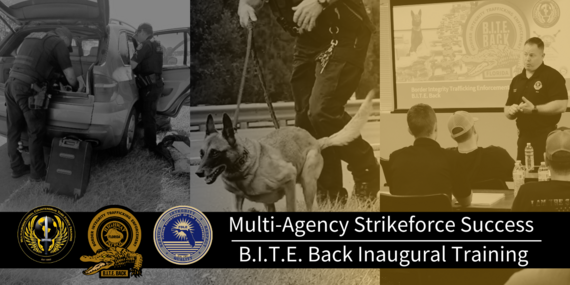 TALLAHASSEE, FLA.– Recently, the Florida Highway Patrol (FHP), Florida Department of Law Enforcement (FDLE), Florida National Guard (FLNG) Multijurisdictional Counterdrug Task Force (MCTFT), with assistance from the Flagler and St. Johns Sheriff's Office, concluded a successful week-long operation focused on detecting and deterring criminal behavior on major roadways in and around both Flagler and St Johns Counties.
This initiative, known as Operation Safe Highways, was initiated in 2022 at the direction of Governor Ron DeSantis. By combining the strength of the B.I.T.E Back Strikeforce, and a proactive approach to interdicting human smugglers, traffickers, and dangerous narcotics such as Fentanyl, this initiative has been proven successful in reducing criminal activity from entering Florida despite the open southern border. In addition to 15 successful operations, the most recent operation included an inaugural B.I.T.E Back training opportunity for out-of-state law enforcement and focused on educating trainees on Florida's response to the border crisis.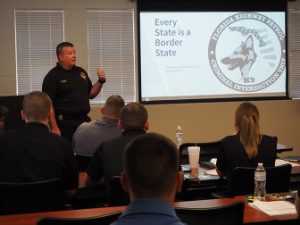 During the weeklong training, participants were provided critical instruction on identifying and preventing cartel activity stemming from the illegal immigration of criminals entering our country to smuggle/traffic humans and narcotics.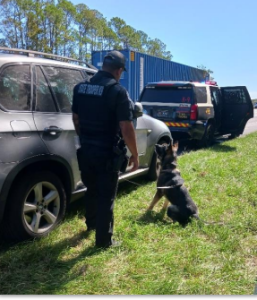 At the end of the week, participants had the opportunity to ride-along with strike force members working on Operation Safe Highways with the intent of bringing the training into perspective and preparing them to take valuable information back to their state. Twenty-one total participants from 10 different states attended the inaugural operators training.
"As undocumented immigrants continue to surge past our open southern border and into the United States, the crisis intensifies," said Executive Director Dave Kerner. "In Florida, because of the leadership of Governor DeSantis, law enforcement has taken the fight directly to the criminal cartels and the humans they use as trafficking mechanisms. Florida will not simply lay down as a victim to destructive immigration policies cloaked in a blanket of false empathy. The open border empowers criminal cartels with unlimited cash and unlimited human labor. We will not relent in the Governor's efforts to secure our state and the safety of our residents, and we are proud to engage our state law enforcement partners throughout the U.S. to fill the painful gap that the federal government has intentionally created. To date, the B.I.T.E. program is responsible for the recovery of over eight pounds of Fentanyl, representing the lives of over 1.8 million Floridians, almost 30 pounds of Cocaine, over 80 pounds of Methamphetamine, the arrest of 42 individuals for human smuggling and getting over 60 fugitives off the street. Everyone wants a safe community for their family, and Florida is taking action to make that happen."

"Our Border Integrity Trafficking Enforcement program is a collaborative effort with the Florida National Guard Counterdrug Task Force to fight organized crime and human trafficking on Florida's roadways," said FHP Colonel Gary Howze II. "Our program enhances the safety of Floridians and our Nation's ability to interdict criminals who know no jurisdictional boundaries and then provide assistance to their victims."

FDLE Commissioner Mark Glass said, "The impacts of illegal immigration on our states have very real costs to our citizens and their safety. This training will help participants better manage those impacts both for the citizens we serve and for our law enforcement communities. I thank FHP and the Florida National Guard for their partnership in keeping Florida safe."

"The Florida National Guard Counterdrug Program, in conjunction with our partners, the Florida Highway Patrol and Florida Department of Law Enforcement, has curated a new and unique hybrid operator level course that provides foundational education on Transnational Organized Criminality, hands-on and experience-based modules addressing officer fentanyl safely, and "Golden Hour" Tactical Medicine," said Florida National Guard Multijurisdictional Counterdrug Taskforce Colonel Matthew Coates. "These courses are additive to the best practices and experience-based interdiction courses taught by our Florida Law Enforcement Subject Matter Experts, the FHP's Criminal Interdiction Unit, followed by a "Capstone" ride along for real-world application and observation during an ongoing mission, Operation Safe Highways."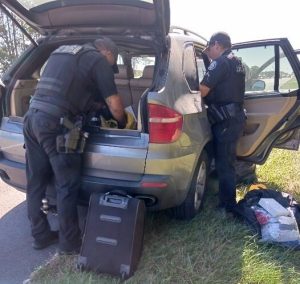 The multi-agency operation which ran concurrent to the B.I.T.E. Back training produced outstanding results due to the strength of the partnerships between FHP, FDLE, the FLNG MCTFT, and Flagler and St Johns County Sheriff's Offices.
The combined efforts of the strike force yielded the following:
ENFORCEMENT:
Misdemeanor Charges-71
Felony Charges-65
Fugitive Warrants-7
Drug Charges-20
Undocumented Aliens-1
SEIZURES:
Cocaine-10.21g
Marijuana-2,155.61g
Methamphetamine-5.2g
Vehicles Recovered-2
Currency-$20,246
Total Assets-$257,041.60
To learn more about the Border Integrity and Trafficking Enforcement B.I.T.E. Back Training Program visit: https://www.flhsmv.gov/florida-highway-patrol/bite/. To view Governor DeSantis's video about the interdiction strike force, visit https://rumble.com/v3tbpjm-bite-back-interviews.html.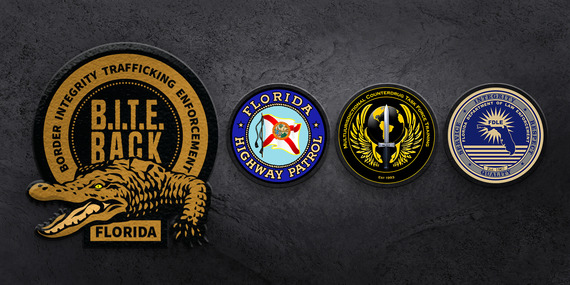 ###
The Florida Department of Highway Safety and Motor Vehicles (FLHSMV) provides highway safety and security through excellence in service, education, and enforcement. Learn more on our website.
The Florida Highway Patrol strives to achieve core values of courtesy, service, and protection. It is FHP's job to help ensure the safety and welfare of millions of Florida's residents and visitors every day.
To learn more about FHP or how to become one of Florida's Finest, visit BeATrooper.com.