Florida Highway Patrol
Border Integrity Trafficking EnforcementB.I.T.E. Back
Multijurisdictional Training Program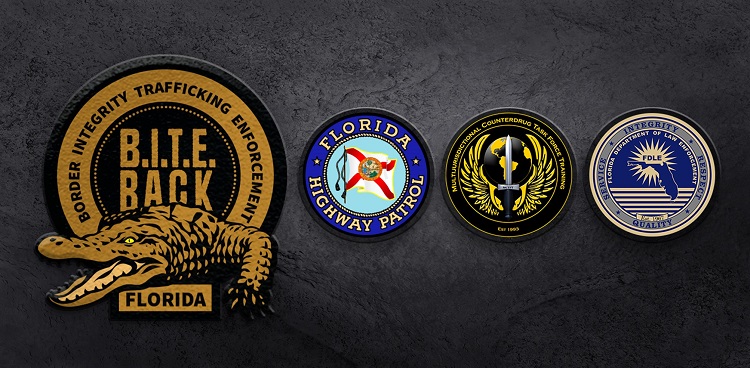 Florida's Blueprint to Back the Blue
Florida is recognized as the leading state in the nation for law and order and as a state that is tough on crime, with a Governor who supports law enforcement and its efforts to maintain a 50-year crime low.
In 2021 Florida answered the call from Governor Greg Abbott of Texas and Governor Doug Ducey of Arizona, who requested immediate law enforcement assistance to secure the southern border from illegal migrants. In 2023, Florida is proud to respond again to the overwhelming crisis at our southern border, which poses an ongoing threat to public safety and national security.
As Florida deploys assets to the border, providing resources and personnel from state agencies, we have the benefit of experience; our state has held the line and has acted upon the call to assist; we have not ignored the crisis.
Florida Highway Patrol (FHP), in a collaborative effort with the Florida National Guard (FLNG) Counterdrug Task Force, has developed a training curriculum available to law enforcement executives educating on Florida's response to the border crisis and training for those with boots on the ground in multi-agency criminal interdiction.
"The impacts of Biden's Border Crisis are felt by communities across the nation, and the federal government's abdication of duty undermines the sovereignty of our country and the rule of law."
– Governor Ron DeSantis
Download the B.I.T.E. Back Brochure
To register, visit the National Guard registration page for the event.
"As undocumented immigrants continue to surge past our open southern border and into the United States, the crisis intensifies," said Executive Director Dave Kerner. "In Florida, because of the leadership of Governor DeSantis, law enforcement has taken the fight directly to the criminal cartels and the humans they use as trafficking mechanisms. Florida will not simply lay down as a victim to destructive immigration policies cloaked in a blanket of false empathy. The open border empowers criminal cartels with unlimited cash and unlimited human labor. We will not relent in the Governor's efforts to secure our state and the safety of our residents, and we are proud to engage our state law enforcement partners throughout the U.S. to fill the painful gap that the federal government has intentionally created. To date, the B.I.T.E. program is responsible for the recovery of over eight pounds of Fentanyl, representing the lives of over 1.8 million Floridians, almost 30 pounds of Cocaine, over 80 pounds of Methamphetamine, the arrest of 42 individuals for human smuggling and getting over 60 fugitives off the street. Everyone wants a safe community for their family, and Florida is taking action to make that happen."

"Our Border Integrity Trafficking Enforcement program is a collaborative effort with the Florida National Guard Counterdrug Task Force to fight organized crime and human trafficking on Florida's roadways," said FHP Colonel Gary Howze II. "Our program enhances the safety of Floridians and our Nation's ability to interdict criminals who know no jurisdictional boundaries and then provide assistance to their victims."

FDLE Commissioner Mark Glass said, "The impacts of illegal immigration on our states have very real costs to our citizens and their safety. This training will help participants better manage those impacts both for the citizens we serve and for our law enforcement communities. I thank FHP and the Florida National Guard for their partnership in keeping Florida safe."

"The Florida National Guard Counterdrug Program, in conjunction with our partners, the Florida Highway Patrol and Florida Department of Law Enforcement, has curated a new and unique hybrid operator level course that provides foundational education on Transnational Organized Criminality, hands-on and experience-based modules addressing officer fentanyl safely, and "Golden Hour" Tactical Medicine," said Florida National Guard Multijurisdictional Counterdrug Taskforce Colonel Matthew Coates. "These courses are additive to the best practices and experience-based interdiction courses taught by our Florida Law Enforcement Subject Matter Experts, the FHP's Criminal Interdiction Unit, followed by a "Capstone" ride along for real-world application and observation during an ongoing mission, Operation Safe Highways."