FHP working with law enforcement partners to identify participants involved in early morning roadway takeover on I-95
~ Social media posts documenting event help to identify those involved~
MIAMI, Fla.- This morning shortly after one a.m., the Florida Highway Patrol (FHP) Miami Regional Communications Center received information that on I-95 northbound near northwest 151st Street, vehicles were blocking the street and recklessly overtaking the roadway.
Participating vehicles engaged in dangerous stunts including donuts while spectators encouraged them, endangering themselves and those around them with their inattentive and careless behavior before then exiting by way of the entrance ramp.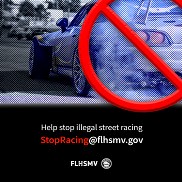 "Roadway takeovers are not a sport; they are not entertainment. FHP and our law enforcement partners are reviewing footage to identify those involved in the event this morning," said FHP Colonel Gary Howze II. "Your Florida Highway Patrol will enforce the traffic laws that keep you and your family safe, and the individuals who participate without thought or care for those around them will be identified."
In October 2022, Florida law was enacted to curtail the dangerous rise in street-racing incidents on Florida roadways.
Florida Statute 316.191 outlaws racing on streets and highways, street takeovers, and stunt driving, as so defined in the statute. The law bans unsanctioned drag racing, street takeovers, drifting, wheelies, burnouts, and donuts.
Cars, trucks, motorcycles, ATVs and other wheeled vehicles are prohibited from participating in any "street takeover, stunt driving, race, speed competition or contest, drag race or acceleration contest, test of physical endurance, or exhibition of speed or acceleration on highway, roadway, or parking lot."
Drivers, passengers, organizers and promoters can all be charged with first-degree misdemeanors. Spectators can be issued a non-criminal infraction pursuant to Statutes, which includes civil penalties.
If you encounter illegal street racing, stunt driving or a roadway takeover:
Remain calm
Do not engage
If possible, safely pull over to the side of the road
Report it
To report street racing, stunt driving or a roadway takeover call *FHP (*347) or 911 and you will be immediately routed to the nearest dispatch center. If you have information regarding an upcoming event or can identify participants, please email StopRacing@flhsmv.gov and send any corresponding screenshots or documentation.
For additional information on street racing, roadway takeovers and stunt driving visit: Street Racing/Takeovers, Stunt Driving – Florida Department of Highway Safety and Motor Vehicles (flhsmv.gov)
###
The Florida Department of Highway Safety and Motor Vehicles (FLHSMV) provides highway safety and security through excellence in service, education, and enforcement. Learn more on our website.
The Florida Highway Patrol strives to achieve core values of courtesy, service, and protection. It is FHP's job to help ensure the safety and welfare of millions of Florida's residents and visitors every day.
To learn more about FHP or how to become one of Florida's Finest, visit BeATrooper.com.