FLHSMV, FHP Promoting Summer Safety Tips During Heavy Travel Months
~ June and July historically display higher speeds, crashes as Florida becomes a premier summer destination ~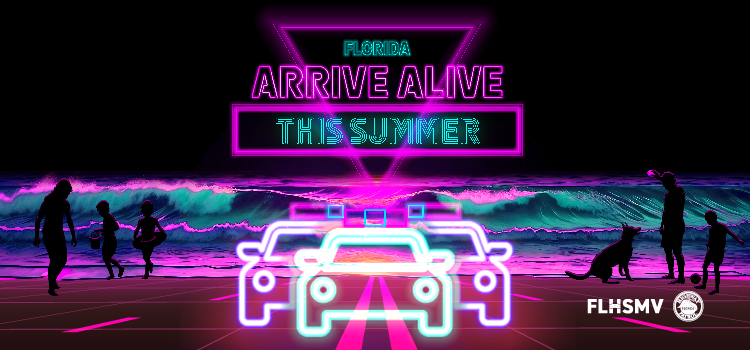 TALLAHASSEE, Fla. – Today, the Florida Department of Highway Safety and Motor Vehicles (FLHSMV) and the Florida Highway Patrol (FHP) are launching its annual Safe Summer Travel Campaign – reminding all Floridians and visitors that safety is paramount.
FLHSMV, FHP and our campaign partners will be promoting safety messages covering buckling up, driving patiently during months with heavy traffic, never driving impaired, tire safety and maintaining vehicle road-readiness, and preventing vehicular heat stroke.
Over the next two months, as Floridians and visitors enjoy the many activities our state offers, it is critical to focus on safety with all decision-making to ensure everyone "Arrives Alive."
"We proudly welcome visitors to the free state of Florida, in all its natural beauty and splendor. Our hardworking law enforcement officers and State Troopers work every day to ensure all our residents and visitors entertain themselves lawfully and responsibly and get home safely." FLHSMV Executive Director Dave Kerner said. "Enjoy your summer knowing that law enforcement will be working diligently to safeguard residents and visitors."
FLHSMV and FHP are partnering with the Florida Department of Transportation, the Florida Department of Children and Families, Florida Police Chiefs Association, Florida Sheriffs Association and AAA – The Auto Club Group to help ensure all travelers "Arrive Alive."
"As summer arrives, we want you to arrive alive; FHP Troopers stand ready to enforce all traffic violations and are committed to public safety," said FHP Colonel Gary Howze II, Director of the Florida Highway Patrol. "Remember always to obey all traffic laws and be courteous to other road users while traveling in our great state this summer."
CRASH DATA ANALYSIS
With traffic higher during summer months, so too are citations and crashes.
According to FLHSMV data analysis, in June and July last year, there were 107,048 crashes with 499 deaths and 2,385 serious bodily injuries.
During those two months, law enforcement issued 3,165 citations for unlawful speed, while 2,349 crashes resulted from excessive speed.
While you may be celebrating United States independence in July, driver freedom comes with a responsibility towards safety. The three days surrounding the 4th of July holiday are typically some of the worst related to traffic crashes.
Over the past five years, on average for the three-day period of July 3-5, there have been 4,924 crashes, resulting in 1,794 injuries and 28 deaths.
While there was an average of 95 impaired-driving arrests each year between 2018 and 2022, there were also 143 alcohol-related crashes and 44 drug-related crashes, on average, per year.
GO SLOW, SOBER, AND SECURED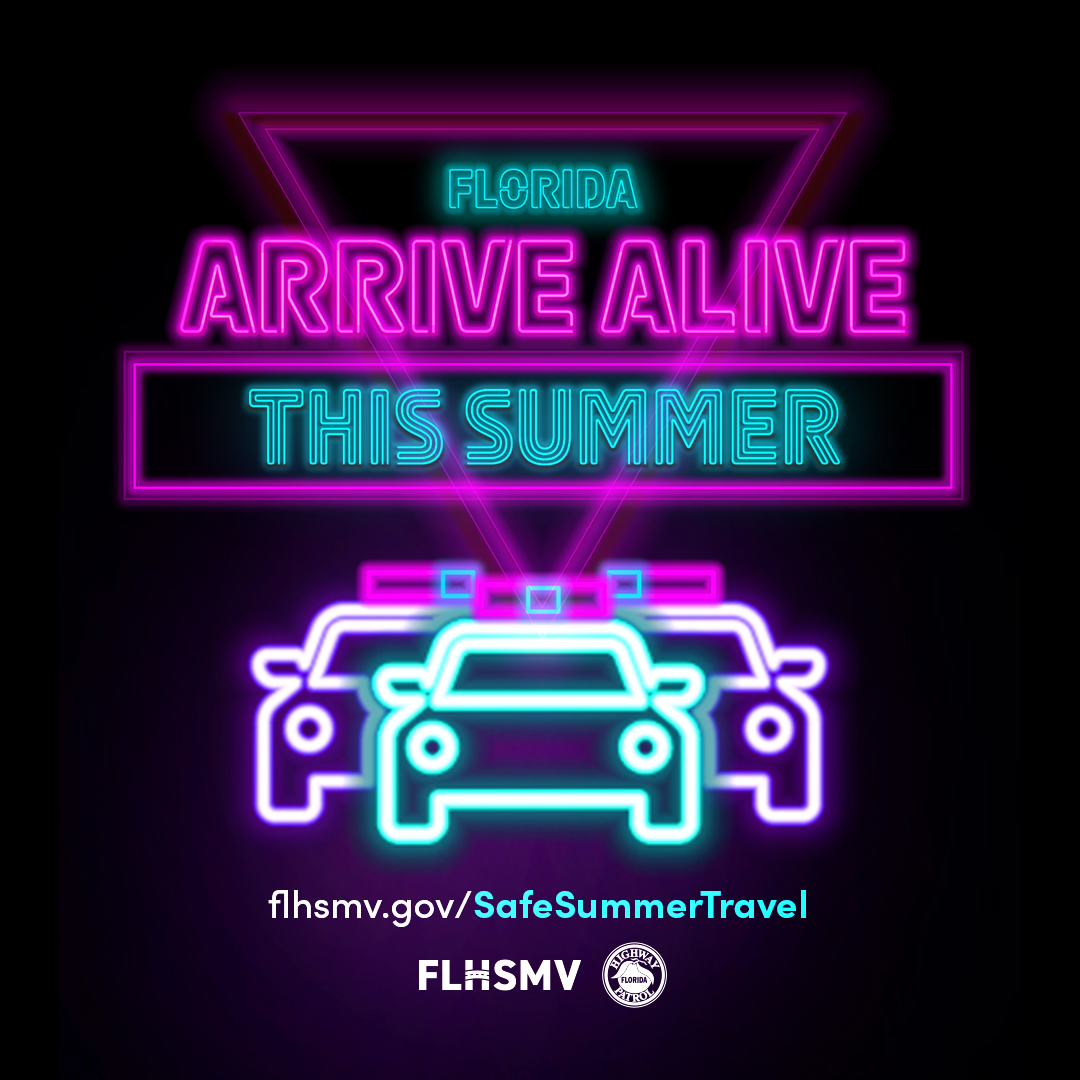 With more cars on the road, it's important to understand that traffic will be heavy before hitting the road. Expect delays and approach travel with patience.
Buckle up – it's the law and it could save your life.
Obey all posted speed limits. Speeding and driving aggressively increases the probability and severity of a crash. Slow down and stay cool-headed. Roads are no place for aggressive behaviors.
Never drive impaired. There are always alternatives – taxis and ride-shares or designating a sober friend. Report impaired drivers by dialing *FHP (*347) or 911.
ROAD-TRIP READY
According to AAA, 57% of Floridians plan to take a summer vacation and 87% plan to do so by road trip. However, 21% will fail to get their vehicle inspected prior to travel.
In the same way you make sure your vehicle is filled up with fuel (or electric charge) prior to departure, make sure you're fully road-trip ready – perform vehicle maintenance, check tires including the spare, and make sure there are no vehicle recalls.
Tires are your vehicle's first line of defense. They should have correct pressure and adequate tread. Never overload a vehicle, as the weight change can result in premature tire wear, blowouts, and hydroplaning.
PREPARE FOR INCLEMENT WEATHER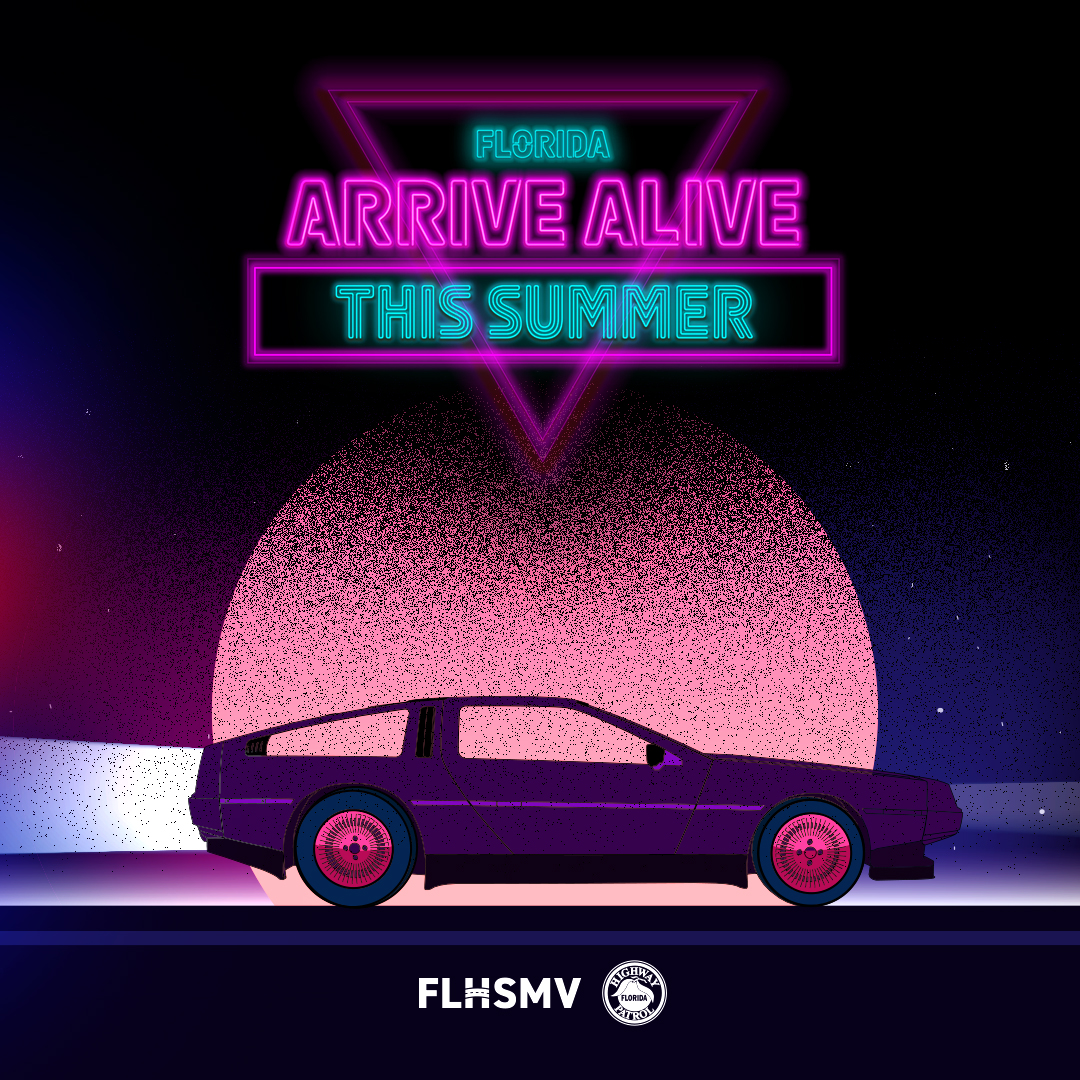 Safe speeds and safe tires play together well, especially during summer months when wildfires and hurricanes become more prevalent, and rainstorms are daily threats.
Learn more about disaster preparedness on the Florida Division of Emergency Management's website.
HOT CARS
Florida summers are incredibly hot. Temperatures inside a vehicle can heat up by 20 degrees in just 10 minutes, and children get hot faster than adults. NEVER leave a child or pet unattended in a vehicle, not even for a short time.
Cracking a window does little to keep a vehicle cool. Ignoring this advice could be deadly, as well as incur severe criminal penalties!
CAMPAIGN SAFETY PARTNERS
"With Florida's many recreational opportunities and unique locations, we welcome millions of visitors throughout the summer travel season, and it is our mission for both our residents and visitors to reach their destinations safely," said Florida Department of Transportation Secretary Jared W. Perdue, P.E. "Before traveling, FDOT encourages drivers to ensure their vehicles are road-ready, to use patience while traveling, and to never drive impaired. Together, we can ensure all those on the road can enjoy a safe and pleasant summer."

"Keeping children safe is one of our top priorities at the Department, so we want to remind parents and caregivers to be hyper vigilant as the summer months are approaching," said Florida Department of Children and Families Secretary Shevaun Harris. "This includes paying closer attention when children are in and around bodies of water as well as double checking that no children are left behind in a hot car. Accidents can happen in the blink of an eye, but with proper adult supervision and other preventative measures, we believe all families can have a happy and safe summer!"

"As Floridians and visitors alike prepare to enjoy another sun-drenched Florida summer, the Florida Police Chiefs Association urges each traveler to prioritize road safety, ensure vehicles are in peak condition, resist speeding or aggressive driving, commit to sober driving, and always buckle up," said FPCA President and Fellsmere Police Department Chief Keith Touchberry. "Remember, in any unforeseen situation, your local law enforcement stands ready to support you – because a safer Florida is a more enjoyable Florida."

"With all our natural and park attractions, Florida is known worldwide as a popular travel destination. Florida sheriffs encourage everyone to drive safely with consideration for others throughout the year. We wholly support the Florida Department of Highway Safety and Motor Vehicles' Safe Summer Travel initiative," said Hernando County Sheriff Al Nienhuis, President, Florida Sheriffs Association.

"Help everyone stay safe on the road this summer," said Michele Harris, Florida Public Affairs Director, AAA – The Auto Club Group. "Be courteous with other drivers even when they're not, and remember to stay alert to motorcyclists, pedestrians, bicyclists and all road users."
For a more detailed information on these topics and to find additional resources and materials, please visit FLHSMV's Safe Summer Travel campaign website, www.flhsmv.gov/Summer.
###
The Florida Department of Highway Safety and Motor Vehicles (FLHSMV) provides highway safety and security through excellence in service, education, and enforcement. Learn more on our website.
The Florida Highway Patrol strives to achieve core values of courtesy, service, and protection. It is FHP's job to help ensure the safety and welfare of millions of Florida's residents and visitors every day.
To learn more about FHP or how to become one of Florida's Finest, visit BeATrooper.com.