Florida Highway Trooper Receives Roadway Designation
~ Interchange named in remembrance of fallen State Trooper ~
 TALLAHASSEE, Fla. – On November 7, 2019, the interchange at Interstate 10 and Mahan Road was renamed in remembrance of fallen Florida Highway Patrol (FHP) Trooper William Herman Dyer, III.
Trooper Dyer began his career with FHP in 1994 as a member of the Florida Highway Patrol Auxiliary. Trooper Dyer later applied and was accepted as a member of the 89th FHP recruit class in 1995. He graduated in March of 1996. Trooper Dyer was stationed in Pinellas and Leon counties, during his 16 years with FHP. On October 18, 2011, while patrolling Interstate 10 in Leon County, Trooper Dyer suffered a medical emergency. The medical condition caused him to lose consciousness and his patrol car crashed. After being transported to a local hospital, Trooper Dyer passed away on December 28, 2011. At the time of Trooper Dyer's death, he was 39 years old.
"I was honored to sponsor this legislation and privileged to attend the ceremony today," said Representative Chuck Brannan. "It is my wish that as the public passes by these markers, that we remember it was not how these troopers died that makes them heroes, it was how they lived."
"It was an honor to sponsor this important piece of legislation renaming our roadways after our fallen troopers who made the ultimate sacrifice in the line of duty", said Senator Lauren Book. "With these designations, our first responders will know that their sacrifice and heroism will never be forgotten by Floridians".
"Trooper Dyer dedicated his life to protecting Florida residents and visitors," said Florida Highway Safety and Motor Vehicle (FLHSMV) Executive Director Terry L. Rhodes. "FLHSMV is proud to memorialize his service and sacrifice through our renamed roadway, keeping his memory alive."
Colonel Gene Spaulding, Director of the Florida Highway Patrol said, "This designation pays tribute to Trooper Dyer's faithful and fearless service to both residents and visitors of the State of Florida."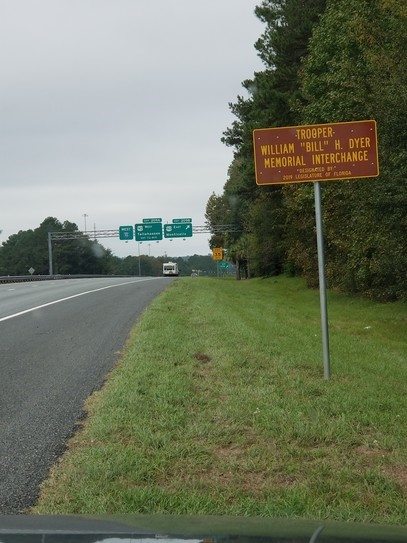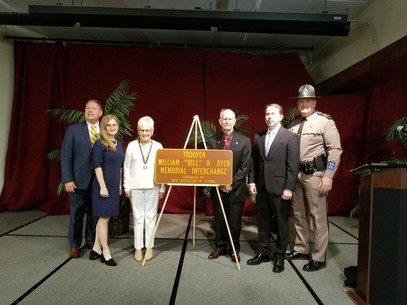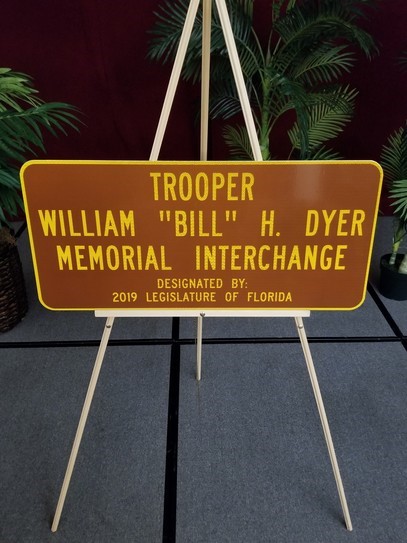 The Florida Department of Highway Safety and Motor Vehicles (FLHSMV) provides highway safety and security through excellence in service, education, and enforcement. FL is leading the way to A Safer Florida through the efficient and professional execution of its core mission: the issuance of driver licenses, vehicle tags and titles, and operation of the Florida Highway Patrol. To learn more about FLHSMV and the services offered, visit www.flhsmv.gov, follow us on Twitter @FLHSMV, find us on Facebook or follow us on Instagram.