The Florida Highway Patrol Announces Chief of South Florida Operations
~ Major Eileen Powell, Commander of FHP's Troop B promoted to Chief ~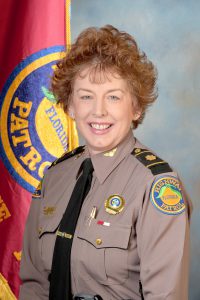 TALLAHASSEE, Fla. – Florida Highway Patrol (FHP) Director, Colonel Gene Spaulding, has appointed Major Eileen Powell as the Chief of South Florida Operations effective today, March 1, 2019. Chief Eileen Powell is a 32-year law enforcement veteran who has most recently served as the Commander of Troop B with the Florida Highway Patrol.
"Chief Powell is a proven leader who is dedicated to accomplishing the mission of the Florida Highway Patrol," said Colonel Spaulding. "Chief Powell brings her extensive knowledge of field operations and experience to lead the South Florida region of the FHP."
Chief Powell began her career with the Florida Highway Patrol in 1987 and was a member of the 78th Recruit Class. Since 2014, Chief Powell has served the residents and visitors of Florida as the Commander of Troop B encompassing Lake City, Gainesville and Ocala.
Throughout her career, Chief Powell has served in many roles, in addition to community and volunteer involvement and professional memberships. Chief Powell has completed the Florida Criminal Justice Executive Institute's Executive Leadership Seminar as well as the Chief Executive Seminar. She is a military veteran, serving as a member of the 325th Maintenance Company (DS) in Saudi Arabia during Operation Desert Shield/Storm, attaining the rank of Captain during 14 years of service.
Chief Powell holds an Associate Degree from South Florida Junior College, a Bachelor's Degree in Criminology from the University of South Florida, and a Master's Degree in Business Administration from St. Leo University.
Also, effective today, Chief John Gourley of South Florida Patrol Operations will transition to North Florida Patrol Operations and Chief Mark Brown will transition from North Florida Patrol Operations to the Commander of the Bureau of Special Services.
The Florida Department of Highway Safety and Motor Vehicles: providing A Safer Florida by securely maintaining the records of more than 19 million registered vehicles and over 15 million licensed drivers, as well as providing safe travel along Florida's highways.  To learn more about FLHSMV and the services offered, visit www.flhsmv.gov, follow us on Twitter @FLHSMV or find us on Facebook.