Community Outreach
Stuff the Charger Food Drive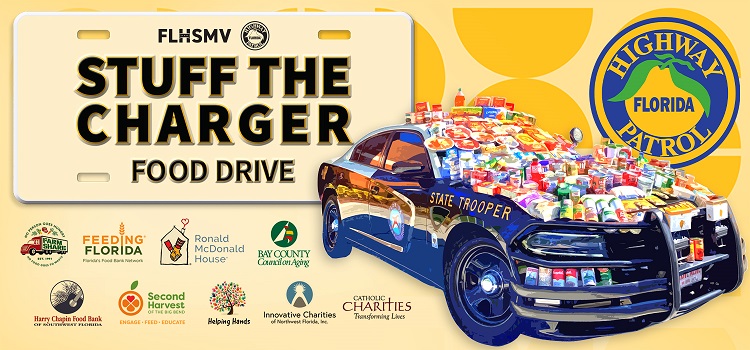 The Florida Highway Patrol (FHP) partners with a network of local resources whose mission is to deliver much needed food and educate the community in the fight against hunger. FHP is collecting food donations for families from November 1 through November 30. FHP will be accepting non-perishable food donations at each troop headquarters across the state including General Headquarters in Tallahassee.
The following are recommended items needed:
| Canned Goods | Dried Goods | Other Goods |
| --- | --- | --- |
| Canned meats (ham, chicken, tuna), canned sweet potatoes, carrots, corn, green beans, canned fruits | Stuffing, boxed potatoes, rice, cornbread mix, grits & oatmeal | Nuts, evaporated milk, broth |
Individuals wishing to donate food can take their contributions to any local FHP Station, or contact a FHP Public Affairs Officer in their area for more information.
Printable Resources
HELP US END HUNGER
STUFF THE CHARGER!