Silver Star Award
Trooper Edwin Rodriguez – Silver Star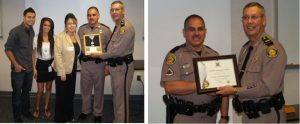 Florida Highway Patrol awards Trooper Edwin Rodriguez the Silver Star for his life- saving actions.
On March 28, 2011, Trooper Edwin Rodriguez was in an off-duty capacity at a Starbucks Coffee Shop when he heard a woman and her husband screaming for help.
Upon answering the call for help, Rodriguez found the couple's infant son in cardiac arrest. Without hesitation, Rodriquez immediately assessed the child's condition, noticing the child was turning blue and was unresponsive. He initiated CPR while Fire Rescue workers rushed to the scene.
Rodriquez turned the child over to Emergency Medical Service personnel upon their arrival on the scene. Rescue workers found the child to be breathing again as the result of the trooper's swift actions and immediately transported the infant to South Lake Hospital.
Rodriguez's heroic actions coupled with his training, experience and quick thinking, saved the child's life.
Pictured above: Col. David Brierton presents Trooper Rodriguez, in the presence of his family, with his medal and certificate.