Silver Star Award
Corporal Jacob Moore – Silver Star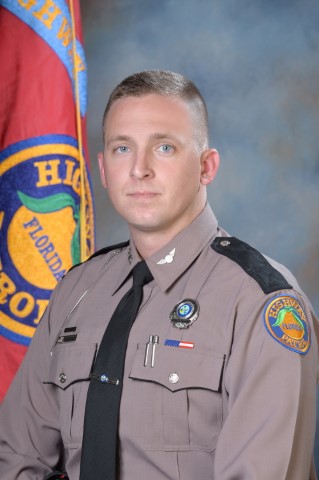 On September 29, 2022, during the Hurricane Ian response, a trooper was traveling west on State Road 64 approaching the Peace River bridge. He was unaware that the bridge he was approaching had collapsed and was unable to avoid running off the roadway, plunging into the water. The very swift current swept the trooper and the patrol car away from the bridge. The trooper was able to escape from the open driver side window and was forced to hold onto a tree in order to stop himself from being swept further down river. As he clung to the tree, he was able to pull his portable radio off his belt and press the emergency button to call for help. Multiple troopers arrived on both sides of the bridge once the trooper's location was determined.
Corporal Moore along with Troopers Matthew Davis and Kenneth Davis, unselfishly entered the water attempting to reach the trooper in the water. Due to the swift current, they attempted to use a rope to reach him, but the rope was too short. They were pulled back to the riverbank by other troopers where tow straps were obtained from patrol cars and tired together to increase the length. The trooper had been in the water for approximately 20 minutes at this point and was slow to respond to calls. With EMS still not on scene, Corporal Moore volunteered to retrieve the trooper and they secured him to the rope. He again selflessly reentered the water and was able to reach the trooper. Corporal Moore secured the trooper by holding onto him while the other troopers pulled them back to the riverbank.
Corporal Moore entered the rushing flood waters, with no water rescue equipment and intentionally put himself in harm's way to rescue someone else. Had it not been for the selfless actions of Corporal Moore the outcome could have been tragic.