Purple Heart Award
Trooper Receives Highest Awards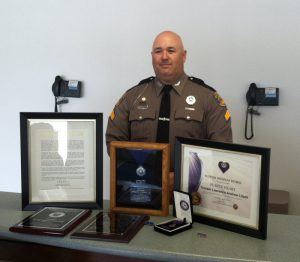 On December 28, 2013, Trooper Lawrence Andrew Litzell attempted to affect a traffic stop on a red Mercury Grand Marquis traveling southbound on US 17. The driver of the vehicle refused to stop. The suspect vehicle turned around and proceeded through a nearby neighborhood before emerging back onto US 17. The vehicle headed north on US 17 into the city of Palatka, and then proceeded over the Memorial Bridge. When the vehicle turned right onto 2nd Street into another neighborhood, Trooper Litzell disengaged the pursuit and notified the Jacksonville Regional Communications Center that the vehicle continued to travel away from him.
A brief time later, the suspect vehicle drove towards Trooper Litzell with its headlights off. Trooper Litzell re-engaged the vehicle and followed it as it crossed over US 17 and South on 2nd Street. The vehicle traveled approximately two blocks before two subjects exited the vehicle on foot and ran away from Trooper Litzell. Trooper Litzell followed the subjects for approximately one hundred yards in his patrol car before exiting and pursuing on foot.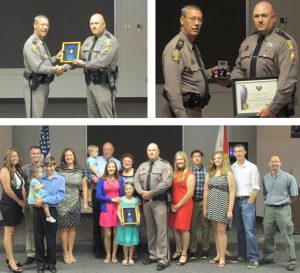 A short time later, Trooper Litzell confronted one of the subjects. The subject aimed a .25 caliber handgun and shot Trooper Litzell directly in the face. After being wounded, Trooper Litzell returned fire with his firearm, striking the subject twice. The subject suffered fatal wounds and died on scene. The second subject left the scene in an undetermined direction.
Trooper Litzell then assisted with securing the subject and handgun immediately after the incident. Due to the unknown location of the second subject, Trooper Litzell maintained a defensive position until additional officers arrived on scene.
Trooper Litzell was transported to University of Florida Health Hospital of Gainesville by medical helicopter where he underwent surgery to repair the damage caused by the bullet.

Trooper Litzell made a full recovery and has since been promoted to Sergeant. He was named FHP's Trooper of the Month in December 2013 for his heroic actions of that night. Since the incident, Sgt. Litzell has received FHP's Medal of Valor and the Purple Heart.