Purple Heart Award
Purple Heart Recipient Trooper Brandon McElderry
Trooper Shot on I-275
On the morning of Wednesday, January 5th at approximately 10:00 AM, Trooper Brandon McElderry, Troop C – Tampa, attempted to conduct a traffic stop on Interstate 275 in Hillsborough County. The violator exited I-275 and stopped. The two conversed and a struggle occurred. During the struggle, the violator seized control of Trooper McElderry's weapon and shot him in the hip, then attempted to carjack a passing motorist. Tampa Police Department arrived on the scene and took the violator into custody. Trooper McElderry was transported to Tampa General Hospital where he was listed in fair condition. The Florida Department of Law Enforcement is conducting the investigation.
---
Going Home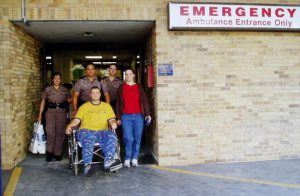 Florida Highway Patrol Trooper Brandon McElderry, after experiencing some complications with a gun shot wound received in the line of duty, which required another stay at a local hospital, has been released again and is on the road to a complete recovery. Tampa District personnel stayed with Trooper McElderry and his wife Celeste around the clock during his stay at Tampa General Hospital. Although they both appreciated all of the attention and medical care, both were happy to return home so that Trooper McElderry could begin recuperating in the comfort of his Hillsborough County home. Nobody is looking forward to Trooper McElderry getting back to work more than he is, with the possible exception of his wife, but FHP will be glad to see him back on duty in the near future!
---
FHP Trooper Shot During Altercation In Tampa
Published on Wednesday, January 5, 2005, in the Tampa Tribune
TAMPA – A Florida Highway Patrol trooper was shot in the thigh with his own gun during a fight with a driver following a traffic stop Wednesday morning, officials said.
After Trooper Brandon McElderry, 30, had stopped Darian Maurice Wright, 28, for a tag violation near the Seminole Heights neighborhood, the two began to argue and then fight, FHP spokesman Larry Coggins said.
McElderry had initially attempted to stop Wright on Interstate 275, but managed to stop him after he exited, Coggins said.
Wright ran from McElderry and when the trooper caught him there was a struggle over his gun, Coggins said.
The details of the fight were not immediately available, Coggins said.
McElderry, a two-year FHP veteran, was taken to Tampa General Hospital, where he was in fair condition with a gunshot wound to his upper right thigh, Coggins said.
Wright was hospitalized at St. Joseph's Hospital in Tampa for injuries sustained in his struggle with the trooper.
Authorities are investigating the incident and have not yet arrested Wright for shooting the trooper. He is being held on other, unspecified charges. Wright intitially identified himself as his cousin, Tony Livingston. Livingston was at home, and was not involved with the incident.