Purple Heart Award
Chapman Receives FHP Purple Heart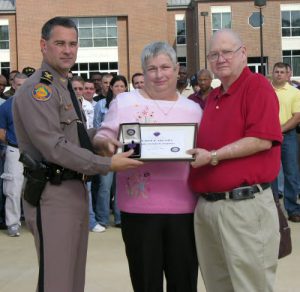 This past week, Colonel Chris Knight presented retired Trooper Richard "Spanky" Chapman with the Florida Highway Patrol's Purple Heart for the injuries he sustained while performing his law enforcement duties during a drug search of a vehicle. The Purple Heart is a special award reserved for a member who has been injured or wounded by acts of aggression while protecting life or property, enforcing laws, preserving the public peace, preventing criminal acts, or apprehending criminals.
On November 18, 1988, while conducting a vehicle search for narcotics, Trooper Chapman commanded K-9 Abbey to conduct a sniff to detect any drugs. The dog was quickly overcome by an unknown substance and fell to the ground. Trooper Chapman also became lightheaded after being exposed to the substance, but the feeling soon passed. However, three years later, Trooper Chapman was diagnosed with sclerosis of the liver. And four years later, Abbey died from a rare form of cancer. Ultimately, Trooper Chapman was forced to undergo both a liver and a kidney transplant.
While working in FHP's Drug Interdiction Program, Trooper Chapman and K-9 Abbey were responsible for confiscating over $47 million dollars in illegal narcotics and over $725,000 in drug related currency. During this time, it was well known that among the criminal element, rewards had been offered for the elimination of Trooper Chapman and Abbey. In addition, it had been established that drug smugglers and couriers used a variety of methods to booby trap their cache of illegal narcotics, coating them with harmful chemicals with the intention of causing harm to law enforcement officers and K-9's trying to detect the drugs.
In 1996, Trooper Chapman's condition was deemed to have been caused by an unknown chemical assault during the 1988 narcotics search, and classified as a work-related injury.
It is our distinct privilege to honor Trooper Richard Chapman with the Florida Highway Patrol's Purple Heart Award.