Medal of Valor Award
Trooper Curtis Vaughn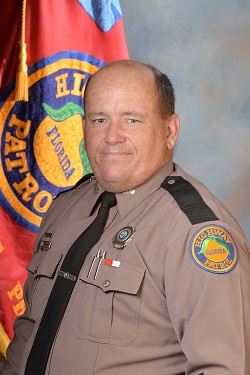 On 4/28/2019, Trooper Curtis Vaughn responded to US 41 and E. Sunray Lane in Citrus County to assist the Citrus County Sheriff's Department with an active pursuit of a stolen vehicle. While responding, Trooper Vaughn was alerted that the truck also was traveling the wrong way at times and also had attempted to run over a Citrus County Sheriff's Department Supervisor. A short time later, Trooper Vaughn located and engaged into the pursuit taking over the pursuit from the Sheriff's Department.
During the pursuit, Trooper Vaughn positioned his patrol vehicle behind the suspect vehicle, and also was able to successfully tag the vehicle using the StarChase system, but due to the system not operating correctly, Trooper Vaughn was given permission to continue the pursuit. Due to Trooper Vaughn remaining calm and collected during the pursuit, he was able to provide his updated location allowing Trooper Dolan and Trooper Dobosiewicz to engage in the pursuit as back-up.
While continuing to pursue the suspect vehicle, the suspect at one point turns and opens fire on all of the Troopers using a handgun, striking Trooper Dolan's windshield. All the Troopers remained composed and continued to pursue the suspect even after being fired at. Due to the severity of the chase and being shot at, Trooper Vaughn made contact with the suspect vehicle, and performed a Precision Immobilization Technique (PIT). Due to the PIT, the suspect vehicle turned, running off the roadway, and rolled over. The driver was ejected from the rollover, and the Troopers still attended to the suspect, providing medical assistance until EMS arrived.
Due to a group effort and excellent backup skills, Trooper Vaughn, Trooper Dolan, and Trooper Dobosiewicz were able to pursue the stolen vehicle and arrest the criminal that terrorized the streets of Citrus, and Sumter County.