Member Recognition
Trooper Ashley Reagle – Silver Star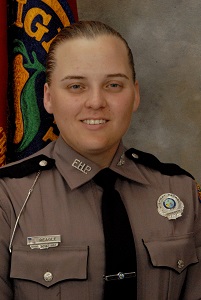 On March 29, 2021, Trooper Ashley Reagle notified the Tallahassee Regional Communications Center of a traffic crash involving multiple vehicles and requested EMS and Fire Rescue to respond due to one of the vehicles being on fire.
Trooper Reagle retrieved her fire extinguisher and attempted to put out the fire. The driver was unconscious, but Trooper Reagle was able to extract the driver from the burning vehicle with the assistance of good Samaritans who were at the scene prior to the vehicle becoming engulfed.
Trooper Reagle was exposed to blood on her hands and shirt from the driver as a result of her actions. She also inhaled a substantial amount of smoke and received minor abrasions and cuts.
Although, the driver later succumbed to his injuries, without Trooper Reagle's quick and decisive action at the scene, the driver would have certainly burned in the vehicle.