Driver Licenses & ID Cards
REAL ID
Countdown to May 7, 2025 REAL ID enforcement:
DAYS
HOURS
MINUTES
SECONDS
The federal REAL ID Act of 2005 sets new standards for the issuance of driver licenses and ID cards.
The REAL ID Act became effective nationwide on May 11, 2008. Florida began issuing REAL ID compliant credentials after January 1, 2010. The new credentials have a star in the upper right corner of the card, as shown in the sample license example on the right. Florida is a REAL ID compliant state and all Florida licenses should be accepted nationwide.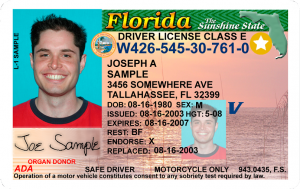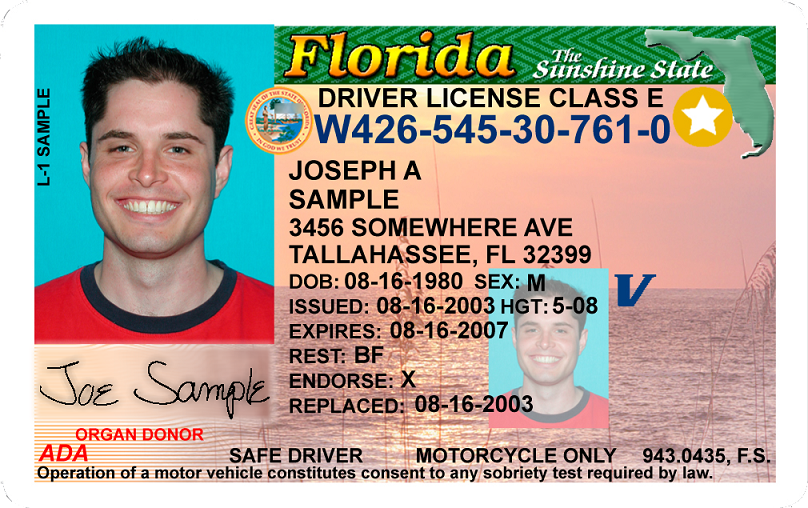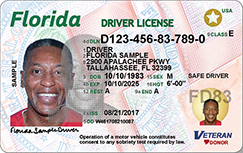 The Department of Homeland Security announced on December 20, 2013, that enforcement of REAL ID credentials will begin in a measured, fair and responsible way. The chart below summarizes the four phases of enforcement.
Phase
Location
Enforcement Date
Phase 1
Restricted areas (i.e., areas accessible by agency personnel, contractors, and their guests) for DHS headquarters in Washington.
April 21, 2014
Phase 2
Restricted areas for all Federal facilities and nuclear power plants.
July 21, 2014
Phase 3
Semi-restricted areas (i.e., areas available to the general public but subject to ID-based access control) for most Federal facilities.
3a. Federal Security Levels 1 and 2
January 19, 2015
3b. Federal Security Levels 3, 4, and 5, and military facilities
October 10, 2015
Phase 4
Boarding federally regulated commercial aircraft. A driver's license or ID card from a noncompliant state may only be used in conjunction with a second form of ID for boarding federally regulated commercial aircraft.
May 7, 2025
REAL ID News & Updates
REAL ID Act – Frequently Asked Questions
What is REAL ID?

REAL ID is a nationwide effort to improve the integrity and security of State-issued driver licenses and ID cards, which in turn will help fight terrorism and reduce identity fraud.

Does Florida issue REAL ID licenses and ID cards?

Yes, Florida began issuing REAL ID licenses and ID cards on January 4, 2010.

Where can I go to get a REAL ID?

Customers must visit an office to become REAL ID compliant for the first time. Visit www.flhsmv.gov/locations to find a driver license service center or tax collector office near you. We recommend making an appointment prior to your office visit.

What documents do I need to bring with me when I apply for a REAL ID compliant license or ID card?

You will need to bring one of the following primary documents to establish your identity, proof of legal residence and date of birth: For a detailed list of required items, Visit our What to Bring page.

For U.S. Citizens:

Valid, unexpired U.S. passport
Original or Certified copy of a birth certificate
Consular Report of Birth Abroad
Certificate of Naturalization issued by DHS
Certificate of Citizenship
For cases where the current name and the name on the primary identity document are different, you should also bring:

Court ordered name change document
Marriage certificate, issued by the courts and/or
Divorce decree, issued by the courts

In all cases, the document must show a clear trail of name changes originating with the birth name to the current name. For more detailed information on the required identity documents, visit our What to Bring page.

For Non-Citizens:

Valid, unexpired Permanent Resident Card – I-551 for Lawful Permanent Residents
Valid Passport for non-immigrants except for asylum applicants and refugees
Other government issued document showing your full name
Department of Homeland Security document showing proof of lawful presence
If your name has changed by marriage/divorce, you must have your name changed on your Citizen and Immigration Services (CIS) documents.

Both Citizens and Non-Citizens will need to bring:

Your Social Security Card or proof of your social security number.
Two documents that show your principal residence

Will I still be able to continue to renew my license online?

Beginning January 2, 2020, customers who are not Real ID compliant will be unable to renew or replace credentials through MyDMV Portal.

Will I be able to have both a REAL ID driver license and a REAL ID ID card?

No, the final Rule specifies that each individual can only hold a REAL ID driver license or a REAL ID ID card, but not both simultaneously. If you currently hold both, one will be cancelled during your next card issuance.

After Florida begins issuing REAL ID licenses and ID cards, can I get mine before the expiration date on my current license or ID card?

Yes, a Class E license can be renewed up to 18 months prior to the card's expiration date.