FLHSMV Highlights Hurricane Idalia Public Safety Efforts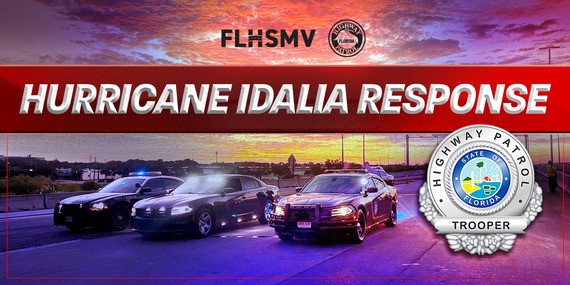 ~Providing Highway Safety that Weathers the Storm~
TALLAHASSEE, Fla.– In the aftermath of Hurricane Idalia, the Florida Department of Highway Safety and Motor Vehicles (FLHSMV) and its division of the Florida Highway Patrol (FHP) are proud to share the Department's efforts to recover and assist those in need.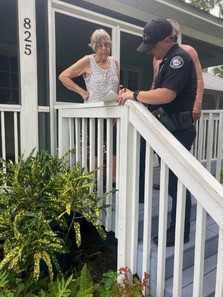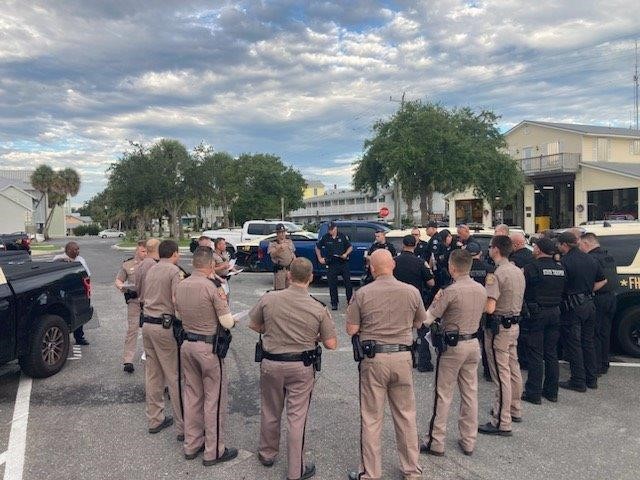 On August 30,2023, Hurricane Idalia landed in Big Bend as a Category 3 storm. Prior to the hurricane's arrival, FHP troopers assisted with evacuating residents in Taylor, Levy, and Dixie Counties, monitoring bridges and roadways for unsafe conditions, and preparing rapid response efforts for communities in North Florida.
In Cedar Key, Troopers and officers with the Cedar Key Police Department went door to door, making contact with residents and ensuring they were aware of evacuation orders. They covered 840 homes in two hours.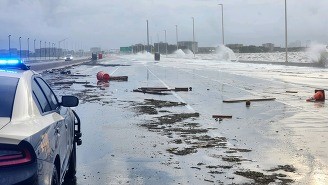 Within hours of the hurricane landing, over 100 FHP Troopers, part of the FHP quick response team (QRT), were deployed to provide law enforcement support, traffic control, roadway clearing, escorts of critical resources, and welfare checks throughout impacted areas of North Florida.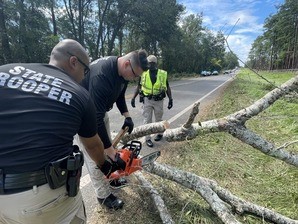 In areas that were the hardest hit, FHP deployed chainsaw crews to assist in efforts to reopen Florida roadways, worked with the Florida Department of Transportation (FDOT) to block roads and bridges so they were safe to travel, and provided escorts of critical infrastructure resources such as fuel and utility trucks to impacted areas. FHP provided aviation support for recovery operations, assisted Urban Search and Rescue Teams (USAR), and worked with local law enforcement to ensure safety and security at fuel sites, feeding stations, and point of distribution (POD) locations.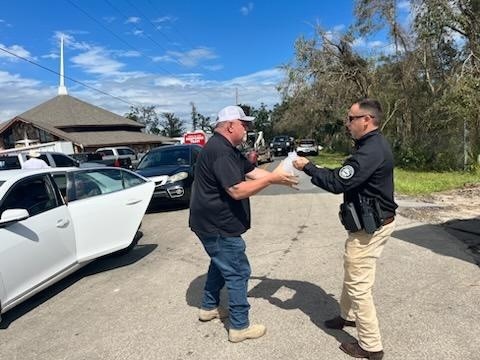 "FLHSMV and FHP have worked tirelessly to provide service both before and following Hurricane Idalia," said FLHSMV Executive Director Dave Kerner. "As with all that serve Florida, this agency is committed to ensuring public safety and assisting in restoration efforts."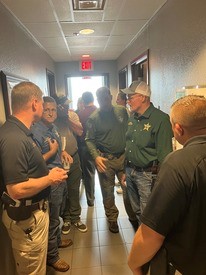 "FHP is dedicated to public safety," said Florida Highway Patrol Colonel Gary Howze II.  "When those we serve are in need, your Florida Troopers respond as needed to assist with evacuations, clearing roadways, law enforcement patrol, air operations, or just lending a helping hand; FHP works to ensure our communities are safer for everyone."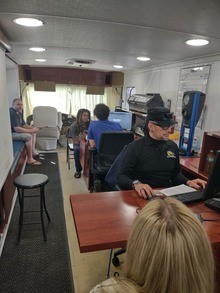 As we work towards total restoration, FLHSMV has deployed Florida Licensing on Wheels (FLOW) units to assist customers with obtaining identity credentials, registrations, and titles to communities where credentials may have been lost or destroyed following Hurricane Idalia.
To ensure ease of access and to provide relief to areas of impact, locations of FLOW are deployed, in several cases, located in conjunction with state and federal agencies such as Florida Commerce, Department of Business and Professional Regulations (DBPR), and FEMA as part of a one-stop resource center.
As of Thursday, September 7, 2023, FLOW has served over 400 customers following the hurricane.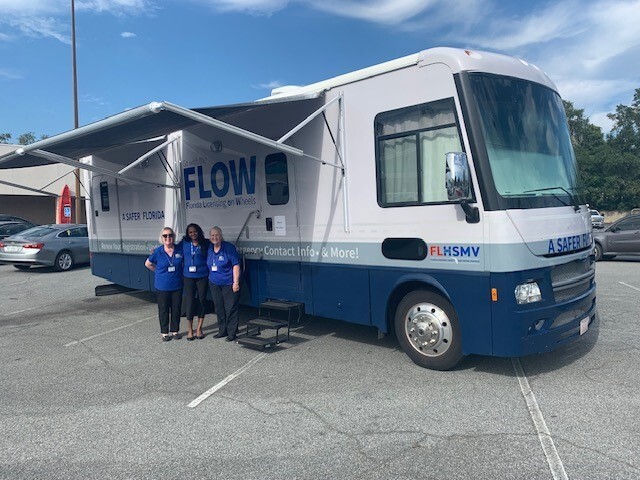 FLHSMV is proud to be part of the statewide effort to put our resources where they are most needed and where they can make a difference. We are committed to providing Florida residents with a reliable standard of public safety, service, and commitment to the communities we serve, especially in times of need.
Click here to see more on FLHSMV and FHP efforts before and following Hurricane Idalia.
###
The Florida Department of Highway Safety and Motor Vehicles (FLHSMV) provides highway safety and security through excellence in service, education, and enforcement. Learn more on our website.
The Florida Highway Patrol strives to achieve core values of courtesy, service, and protection. It is FHP's job to help ensure the safety and welfare of millions of Florida's residents and visitors every day.
To learn more about FHP or how to become one of Florida's Finest, visit BeATrooper.com.