FHP Trooper in marked unit blocks wrong-way driver on I-4 entrance ramp from entering traffic
~ Heroic act prevented unknown number of motorists from potential injury, death from wrong-way crash~
ORLANDO, Fla.– Last night, Florida Highway Patrol (FHP) received information that a 2022 Toyota Corolla was observed driving eastbound on the westbound entrance ramp to Interstate 4 (I-4) from County Road (CR) 423.
FHP, Orlando Police Department (OPD), and Orange County Sheriff's Office (OCSO) responded to prevent the vehicle from endangering motorists by causing a wrong-way crash at a busy intersection or on the interstate.
After arriving, the Trooper positioned their vehicle in the direct path of the Corolla to physically block its ability to enter the way of normal traffic flow. The Corolla then swerved into the travel lanes, and FHP blocked further travel causing the Corolla to collide with the marked unit and crash into a palm tree on the shoulder of the entrance ramp. The Trooper and the Corolla's driver were transported to area hospitals with minor injuries.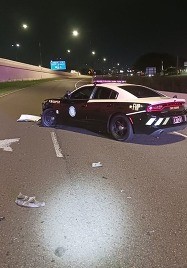 "FHP's response to the report of wrong way driving and the actions of the trooper involved, without a doubt, saved lives," said FHP Colonel Gary Howze II. "Everyone on the road is responsible for their actions and their impact on others around them; whether intentional or not, a driver's situational awareness will likely make the difference if someone is injured or killed on our roadways."
Wrong-way fatal (within 30-day) crashes are already at 29 as of May 24, 2023, while the total for 2022 was 45. These numbers demonstrate a steady increase in wrong-way crashes resulting in a fatality or serious bodily injury (2022/99, 2023 as of May 24/42).
It is important that drivers make good driving decisions when getting behind the wheel as wrong-way crashes most commonly involve factors in the driver's control, such as drowsy driving, driving while intoxicated, distracted driving, and impaired mental health. To avoid the potential risk of injury to themselves or other motorists' drivers should always practice caution and exercise good judgment while driving.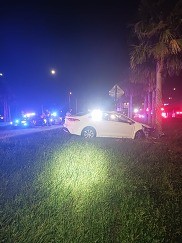 Whether driving on the interstate, local, or state roads, all drivers must do the following if they approach a WRONG WAY sign to help prevent a crash:
Stop immediately.
Pull over to the side of the road.
Turn around when it is safe to do so.
If a driver encounters a wrong-way driver or sees an alert displayed on an electronic message board, they should take the following actions:
Use caution.
Reduce your speed.
Pull over.
Call *FHP (347) or dial 911 to report.
Signage and pavement markers are consistent along Florida's roadways to signal drivers they are traveling in the wrong direction. Additional technology and education continue to be implemented and researched across Florida to further help prevent tragic incidents from occurring.
To learn more about what to do if you find yourself driving in the wrong direction or if you encounter a wrong-way driver, please visit this webpage published by FHP's partner agency the Florida Department of Transportation (FDOT) and watch this video to learn more about all the engineering and education available to help deter wrong-way driving on Florida roadways so everyone can get home safely.
###
The Florida Department of Highway Safety and Motor Vehicles (FLHSMV) provides highway safety and security through excellence in service, education, and enforcement. Learn more on our website.
The Florida Highway Patrol strives to achieve core values of courtesy, service, and protection. It is FHP's job to help ensure the safety and welfare of millions of Florida's residents and visitors every day.
To learn more about FHP or how to become one of Florida's Finest, visit BeATrooper.com.