WHAT THEY ARE SAYING: FHP enters 2023 America's Best-Looking Cruiser Competition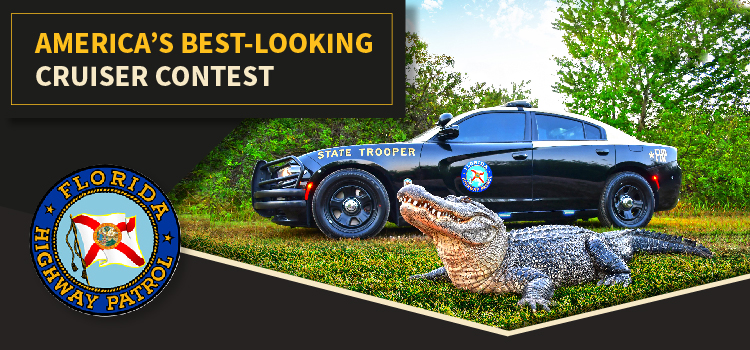 TALLAHASSEE, Fla.– On Monday, The Florida Highway Patrol (FHP) entered the Annual American Association of State Troopers (AAST) 'Best Looking Cruiser' contest.
Each year competing states submit pictures of their selected cruiser and choose a background or location they feel represents their state.
The winning cruiser will serve as the cover vehicle for the 2024 AAST wall calendar, whose proceeds benefit the AAST Foundation, which provides educational scholarships to dependents of member troopers.
FHP currently sits in third place behind Kentucky State Police(1st) and Georgia State Patrol (2), Indiana State Police holds fourth place. With over a week left until voting closes on July 31, the competition is heating up!
Florida Highway Patrol, along with Kentucky State Police, Georgia State Patrol, Virginia State Police, Indiana State Patrol, and Massachusetts State Police, have all participated in some friendly competition by tagging each other in social media posts, creating posts aimed at each other, and even producing ads (FHP) playfully targeting their competitors and encouraging followers to vote.
While the competition continues, Florida needs your help by voting for Florida Highway Patrol as America's Best-Looking Cruiser. Help us take the title from two-time consecutive winner Kentucky State Police by sharing our submission photo and following along as the fun continues on FLHSMV and FHP social media accounts which include Twitter, Facebook and Instagram.
Read what competing states say about the Florida Highway Patrol's submission picture and remember there is still time to #VoteFHP!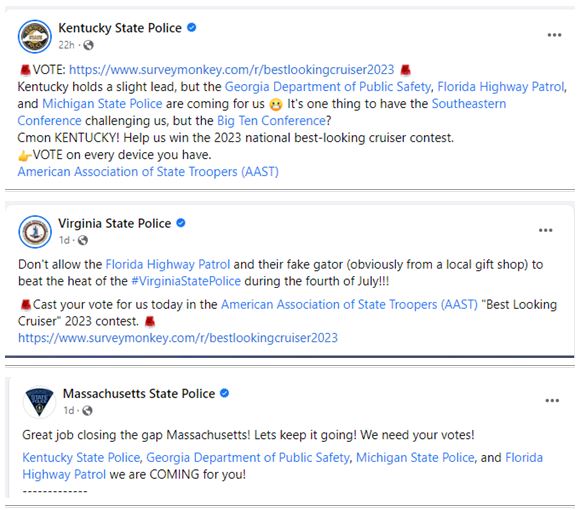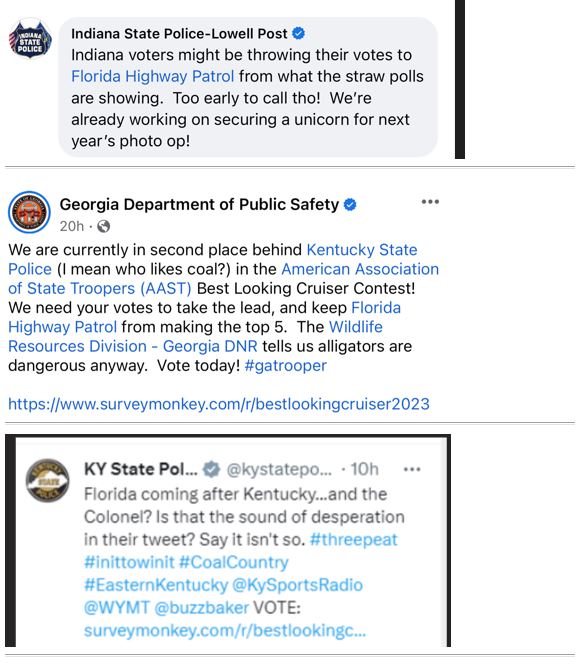 Media looking for interview availability, images or content can contact the Florida Department of Highway Safety and Motor Vehicles Communications Office for assistance and response.
The competition began, Monday, July 17, 2023, and ends on Monday, July 31, at noon. To read more about the competition and to place your vote, visit https://www.flhsmv.gov/votefhp/ . To directly vote for 2023 Best Looking Cruiser visit, https://www.surveymonkey.com/r/bestlookingcruiser2023 and remember to
VOTE FHP!  
###
The Florida Department of Highway Safety and Motor Vehicles (FLHSMV) provides highway safety and security through excellence in service, education, and enforcement. Learn more on our website.
The Florida Highway Patrol strives to achieve core values of courtesy, service, and protection. It is FHP's job to help ensure the safety and welfare of millions of Florida's residents and visitors every day.
To learn more about FHP or how to become one of Florida's Finest, visit BeATrooper.com.