Florida Highway Patrol Criminal Interdiction Unit Seized Over $110,000,000 In Contraband In 2022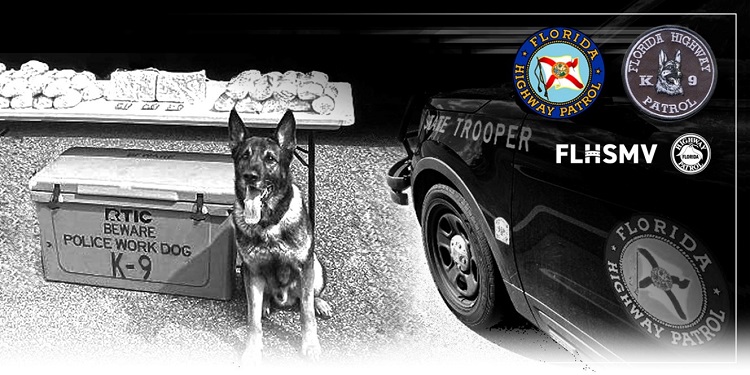 ~ FHP conducted 1,025 felony arrests, confiscated over 5,000 pounds of narcotics during the calendar year ~
TALLAHASSEE, Fla. – The Florida Department of Highway Safety and Motor Vehicles (FLHSMV) and the Florida Highway Patrol (FHP) are actively working to make a safer Florida.
FHP's Criminal Interdiction Unit (CIU) – which runs operations designed to uncover nefarious drug activity along Florida's roadways, along with rooting out illegal human trafficking and smuggling efforts – provides direct evidence of the ongoing success of the department's mission objective.
In 2022, FHP CIU conducted 1,025 felony arrests on 2,187 felony charges, and confiscated over 5,000 pounds of narcotics and currency valued at $110,400,681. Included in the seizures was over $5 million in U.S. currency, used by these criminals to fund their operations and live extravagantly while others suffer.
FHP CIU also seized 204 weapons and inhibited the smuggling of 148 undocumented immigrants during its yearlong operations across Florida's 67 counties.
While marijuana was the most-seized drug in terms of gross weight, 722 pounds of cocaine were confiscated, as were 649 pounds of other drugs. Other drugs included fentanyl, oxycodone, xylazine, and ecstasy/molly, among others.
"The Florida Highway Patrol represents more than traffic enforcement and safety," said FLHSMV Executive Director Dave Kerner. "The men and women dedicated to keeping Florida communities safe are Florida's finest. As they patrol the many roadways across the state, they confiscate dangerous narcotics and weapons. They amplify Governor DeSantis's leadership on law and order. They keep you safe, and they produce results."

The above arrests and totals reflect the CIU division's activity, but do not encompass every aspect of arrests and seizures that happen across the totality of the Florida Highway Patrol.
FHP CIU undergoes regular, intensive training to stay up to date on tactics used by criminals, such as how to uncover hidden compartments in vehicles or how to spot human trafficking/smuggling.
CIU's K-9 unit requires five months of initial training, following by more rigorous work to make an effective team. CIU has also been trained on how to provide first-aid training to K-9s.
CIU performed three major joint ops last year in Escambia, Sumter, and Columbia counties. In addition to weapon/drug confiscation and combatting human trafficking/smuggling, CIU can boast to:
Finding murderers with in-state and out-of-state warrants
Recovering stolen merchandise
Uncovering identity and social security theft
Halting diesel fuel theft and discovering gas scams
Contributing to rescue efforts and traffic control during Hurricane Ian and other disasters
"The Criminal Interdiction Unit is a group of highly trained, highly motivated, and very dedicated individuals who make a great force for good within the Florida Highway Patrol," said Major Sandy Mandell, FHP Bureau Commander of Criminal Investigations. "They consistently go above and beyond to make it safer for Florida's residents and visitors."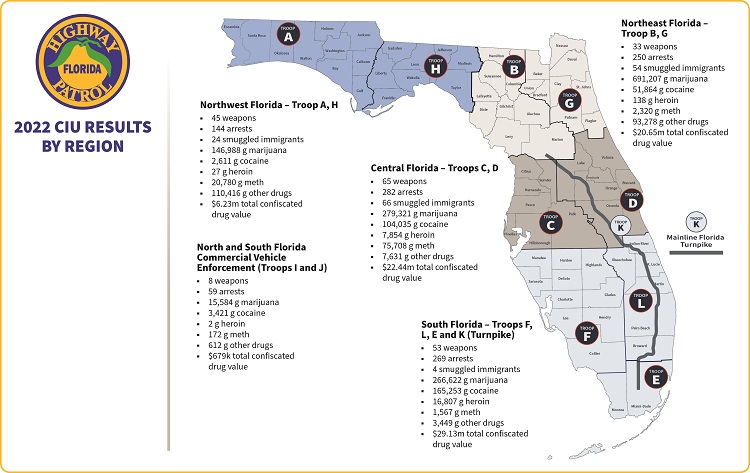 ###
The Florida Department of Highway Safety and Motor Vehicles (FLHSMV) provides highway safety and security through excellence in service, education, and enforcement. Learn more on our website.
The Florida Highway Patrol strives to achieve core values of courtesy, service, and protection. It is FHP's job to help ensure the safety and welfare of millions of Florida's residents and visitors every day.
To learn more about FHP or how to become one of Florida's Finest, visit BeATrooper.com