FHP Troopers Support Local Law Enforcement Efforts in Miami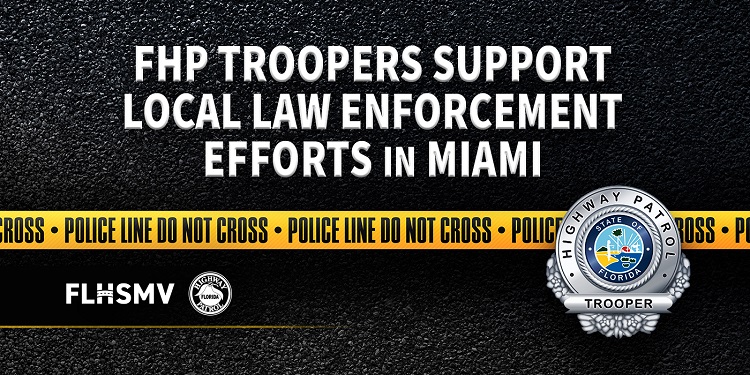 TALLAHASSEE, Fla – Today, the Florida Highway Patrol, at the direction of Governor Ron DeSantis and in partnership with the City of Miami Beach and Miami-Dade County officials, is sending a surge of more than 60 additional FHP Troopers to the city of Miami Beach to provide additional support to local law enforcement efforts. These coordinated efforts and increased officer presence show that law enforcement is, first and foremost, committed to the safety of those they serve, Florida's citizens.
"Florida is a law-and-order state. As part of Governor DeSantis's priority to protect Floridians and keep our communities safe, FHP is ready and prepared to act," said FLHSMV Executive Director Dave Kerner. "We are committed to enforcing public safety and look forward to collaborating with our law enforcement partners to prevent disorder and keep the city, its citizens and visitors out of harm's way. We will stay as long as needed and protect the residents of the greater Miami area, and we will have zero tolerance for dangerous and illegal activity."
FHP troopers will assist with patrolling the streets, keeping order, and preventing violent, illegal and unruly behavior exhibited in recent weeks. Miami Beach has experienced large crowds, gang violence, street racing and roadway takeovers that are dangerous to the public and visitors of the city.  An emergency declaration in March issued by the City of Miami Beach described increased shootings, drug activity, and violent attacks, including aggravated assaults and robbery.
Florida is a law-and-order state whose officers are committed to ensuring citizens are safe regardless of agency or badge.
###
The Florida Department of Highway Safety and Motor Vehicles (FLHSMV) provides highway safety and security through excellence in service, education, and enforcement. Learn more on our website.
The Florida Highway Patrol strives to achieve core values of courtesy, service, and protection. It is FHP's job to help ensure the safety and welfare of millions of Florida's residents and visitors every day.
To learn more about FHP or how to become one of Florida's Finest, visit BeATrooper.com