FHP Trooper Scott Mills Wins Hurd-Smith Award For Top DUI Arrest Total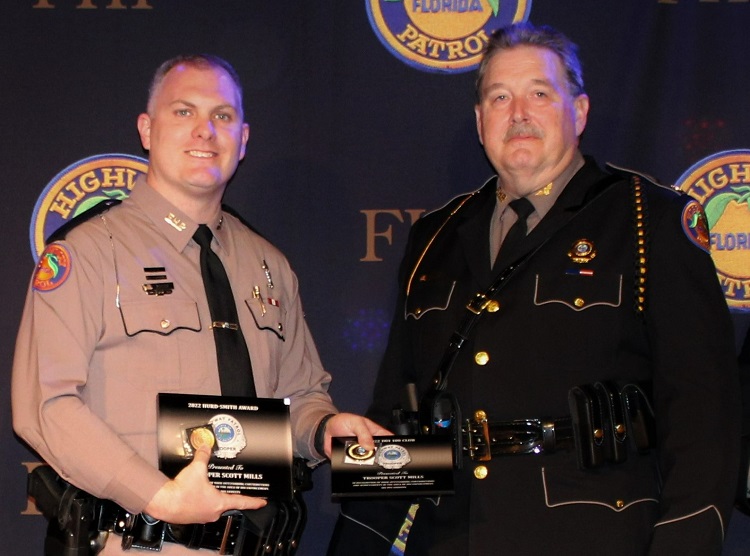 ~ Mills headlined a group of six state troopers who stopped 100 or more impaired drivers on Florida roadways in 2022 ~
TALLAHASSEE, Fla. – Driving while impaired – whether under the influence of alcohol, drugs, or a combination of both – is dangerous and illegal. It puts everyone in danger.
Florida Highway Patrol Trooper Scott Mills from Jacksonville-area Troop G takes the responsibility of getting impaired drivers off Florida's roadways very seriously.
At the recent 7th annual FHP Awards Banquet, Trooper Mills was awarded the 2022 Hurd-Smith Award, recognizing the trooper with the highest Driving Under the Influence (DUI) arrest total over the previous year.
The award is named after Trooper Kimberly A. Hurd and Trooper Robert G. Smith, who both died in DUI tragedies. A drunk driver killed Trooper Hurd on July 16, 1992, and a drunk driver killed Trooper Smith on July 26, 1997.
"It's an absolute true honor and a huge accomplishment to get the Hurd-Smith," said Trooper Mills, whose 12-hour work shift falls during the dark hours of the night.
"You're going against everyone else in the state, thousands of troopers out there on the roadways. To be in the DUI 100 club and do it for the second year in a row, it's a true reflection of the hours and dedication spent on enforcement."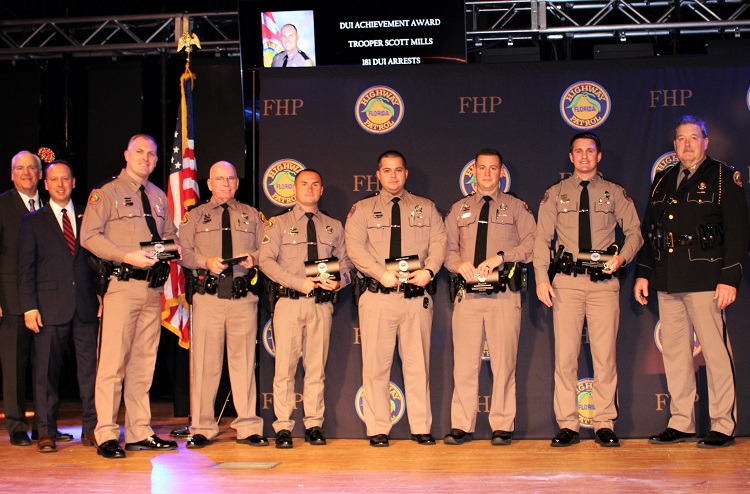 With 181 DUI arrests in 2022, Trooper Mills headlined a group of six state troopers – known as the DUI 100 – who cited 100 or more for DUI.
In addition to Mills, those who reached the milestone mark were Trooper Kenneth Montgomery (135), Trooper Taylor Ledford (135), Trooper Jordan Capela (119), Trooper Joseph Farley (102), and Trooper Garrett Earlywine (100).
This is the first time Mills has earned the Hurd-Smith Award. Montgomery and Farley have both taken it home twice, and Ledford received it once.
Mills found his win to be humbly ironic, having given a fallen trooper presentation on Trooper Hurd while a recruit at the FHP Training Academy.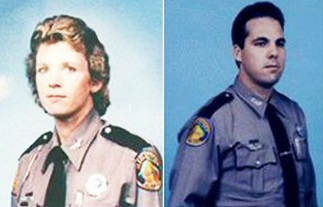 "I had to do a lot of research, find articles, and get into her background and career. She was 'The Queen of DUIs' for the Highway Patrol," Trooper Mills said.
"To turn around and win the Hurd-Smith, it's not just an honor to me, I feel it's a reflection and tribute to her and Mr. Smith as well, to carry on their legacy, continue doing the enforcement, removing impaired drivers off the roadway.
"It was touching, it was emotional, and it was an honor."
Mills has gotten 2023 off to a good start, arresting three for DUI on a recent Tuesday night. He was busy early this month with THE PLAYERS Championship golf tournament at TPC Sawgrass in Ponte Vedra Beach.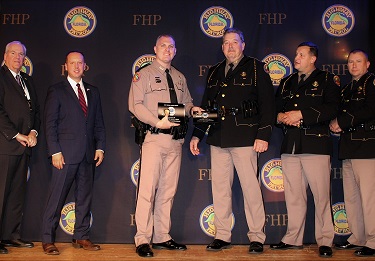 "The public might believe that Friday night and weekend nights are your popular DUI nights, but what we have noticed through enforcement and statistics is that impaired drivers, who are affecting people's safety, they're out every day of the week," Trooper Mills said.
"We certainly hit it hard on weekends, holidays, and special events. There are a lot of people out consuming alcoholic beverages who don't plan for a safe ride home. But every night, every day, every time of the year, impaired drivers are on the roadway, and we dedicate ourselves to finding them."
March is FLHSMV's Impaired Driving Awareness Month, and the Florida Highway Patrol is reminding all motorists that driving impaired has real consequences. There were 568 impaired-driving crashes and 3,013 DUI arrests in March 2022.
Law enforcement monitor Florida's roadways to keep everyone safe, but it's every driver's responsibility to do their part and not get behind the wheel while impaired. For more information and data analysis, visit FLHSMV's Impaired Driving webpage.
"We can't tell the future, but every single impaired person we take off the roadway, we may have saved their life, we may have saved a passenger's life, we may have saved a bicyclist or pedestrian or other innocent victim's life," Trooper Mills said. "Every time we get an impaired driver off the roadway, we immediately view that as one life saved, if not more."
###
The Florida Department of Highway Safety and Motor Vehicles (FLHSMV) provides highway safety and security through excellence in service, education, and enforcement. Florida is leading the way to A Safer Florida through the efficient and professional execution of its core mission: the issuance of driver licenses, vehicle tags and titles and operation of the Florida Highway Patrol.
To learn more about FLHSMV and the services offered, visit https://www.flhsmv.gov, follow us on Twitter @FLHSMV, find us on Facebook or follow us on Instagram