Florida Highway Patrol and Charlotte County Sheriff's Office Arrest Members of Theft Ring Arrested for R.I.C.O.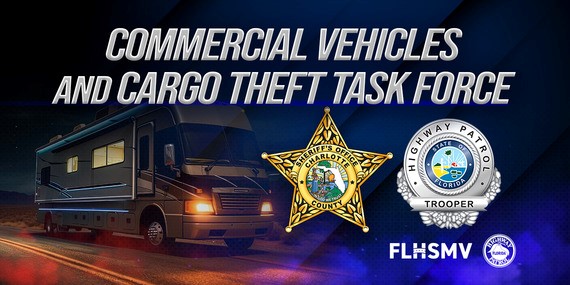 ~ R.V.s, Campers, Trailers, and Heavy Equipment Intended to Aid Displaced Floridians After Hurricane Ian Stolen and Sold for Profit~
TALLAHASSEE, Fla.-Yesterday Florida Highway Patrol (F.H.P.) troopers from the Commercial Vehicle and Cargo Theft Task Force, along with Detectives with the Charlotte County Sheriff's Office (C.C.S.O.), arrested four members of a criminal theft ring for crimes including those defined in the Florida Racketeer Influenced and Corrupt Organization (R.I.C.O.) Act.
The investigation into the theft ring began in April 2023 after the Charlotte County Sheriff's Office connected a group of suspects to the theft of seven R.V./Campers belonging to the State of Florida for disaster relief to assist victims of Hurricane Ian.
"The Florida Highway Patrol Cargo Theft Task Force in coordination with the Charlotte County Sheriff's Office have arrested several suspects responsible for stealing critical resources intended to assist Floridians during a state of emergency," said F.H.P. Colonel Gary Howze II. "Incidents such as this remind us that while many show their strength and character during times of crisis, there are also those who look for opportunities to exploit others in need."

"I want to thank the Task Force, to include some of my own detectives, for their efforts in finding and arresting these individuals," said Charlotte County Sheriff Bill Prummell. "The collaboration between law enforcement agencies is critical to maintaining the safety in our area. It's part of what keeps Charlotte County the best place to live, work, and play. I hope that this operation encourages others to think twice before committing a crime in Charlotte County."
Beginning in March 2023 and ending in July 2023, the group stole, sold, and delivered 19 R.V.s/Campers (16 belonging to the State of Florida), one trailer, and two pieces of heavy equipment with an estimated value over $1,000,000.
The theft ring would operate in the early morning or late evening hours to blend in with the typical delivery hours of R.V.s and Campers to displaced Floridians during the state of emergency following Hurricane Ian. Once in possession of the stolen R.V.s or Campers, members would begin word-of-mouth sales at significantly discounted cash-only prices, some claiming the low price was due to repairs the vehicle had undergone following hurricane damage.
Nine R.V./Campers have been recovered, and 11 remain stolen, along with the trailer and two pieces of heavy equipment.
Two members of the ring, Juan Carlos Santana, 55, of Miami, and Giddel Santana Morales, 43, of Miami, were arrested and booked in Miami-Dade County. Another two members, Misael Gonzalez, 53, of Naples, and Ivan Gutierrez Miranda, 43, Naples, were arrested and booked in Collier County. One additional member, Yosmel Betancourt Morales, 32, of Lake Worth, Florida, remains at large, to see a copy of his wanted bulletin, click here.
###
The Florida Department of Highway Safety and Motor Vehicles (FLHSMV) provides highway safety and security through excellence in service, education, and enforcement. Learn more on our website.
The Florida Highway Patrol strives to achieve core values of courtesy, service, and protection. It is FHP's job to help ensure the safety and welfare of millions of Florida's residents and visitors every day.
To learn more about FHP or how to become one of Florida's Finest, visit BeATrooper.com.