Criminal Interdiction Unit
K-9 Zeus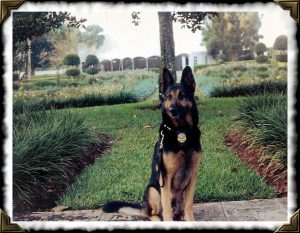 By Trooper Roy Swatts, Zeus handler
Zeus was born in Hungary January 30, 1996, and came to the United States in 1997, when he was just over a year old. FHP acquired him in March 1997.
After a short period of getting to know each other and bonding, we began training at the Bob Gayley K-9 School in Astatula, Fl. When I got him and looked at the long, drawn out, Hungarian name that was on his birth certificate, Kiss-Palhazi Sotet, I could not even begin to pronounce it. When we began training I just called him "dog." During one of the training sessions, he decided he was going to exert his dominance over another older, larger K-9. After the two of them were separated, Zeus glared at the other K-9, as if to say, "You want to take a shot at me? Come on, I'll take you on". Thus he got his name, Zeus, king of the pack. It was also an easy one syllable word that could easily be shouted out in the heat of the moment, as opposed to his birth name.
Early on I found that he was people oriented and liked attention, but was very animal aggressive, except with our family cat and golden retriever. He got into it with another K-9 when he was flown to the U.S. and had a chipped K-9 tooth when I got him. That was corrected by a steel cap. It gave him a very intimidating appearance when he showed his teeth and he could shred a sleeve or skin if he got a hold of some one.
Zeus was not as bulky as the other K-9s in our class, but he was tall, long and lanky. His speed, when he ran down a decoy, was such that he would hit it so fast, he would knock the decoy off his feet. We were almost washed out of the school at first, because he simply would not respond to any commands. He would just sit there and look at me with this really dumb look. We quickly realized he already had some training, but all his training and commands were in Hungarian and no one knew that language or commands. Once he associated the commands in the German we were using, he excelled and learned quickly. It was like he was telling us, "I knew what to do, you just were not giving me the correct commands," which was true.
Zeus knew when it was time to go to work. Many times I would go out and he was already sitting at the car door, waiting impatiently for me. Whenever we made a traffic stop and did not get him out, he would sit and sulk until the next stop.
I don't recall ever having a "false/positive" alert. If he indicated that there was something there, then there was something there. One case in particular comes to mind when my partner, Marley Davis, and I were working with the US Customs, New York State Police and the RCMP. We made a stop on a vehicle after the transfer of a large sum of cash that was going to Miami for a purchase. This was a classic example of joint co-operation and perfect execution of the traffic stop, use of the K-9 and discovery of the contraband. The New York State Troopers were so impressed, they requested a copy of the video to incorporate into their contraband interdiction training.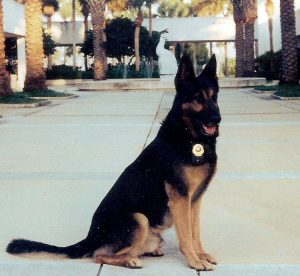 I never wore him out. I would usually come out early, take him to the Central Florida Fairgrounds and exercise him for 30 plus minutes with his frisbee. He was a jumper and with his speed, had no trouble running it down and catching it before it hit the ground. During training, it took him a few tries to learn not to jump so high when we were teaching him to go through windows. He actually hit the top of the window and would fall back, knocked silly for a few moments.
My son, daughter-in-law and new granddaughter came to live with us several years after I had Zeus. He instantly took to our granddaughter, Gracey, and when she started crawling, he did not let her get very far from him. They would be in the backyard together and he did not take kindly to anyone getting near the fence when she was outside with him. She could not pronounce "Zeus", so his second name was "Juice". It was hard to imagine him being such a bad boy when we were working and so gentle around her, but it was a mark of his intelligence and understanding.
When I became a volunteer instructor for the Florida Fish and Wildlife Conservation Commission (FWC) with the BOW (Becoming an Outdoors Woman) program where women are taught outdoor skills, I brought Zeus to show them how to teach their family dogs to track. If you are in the woods and a child becomes separated or lost and you have properly trained your dog to search, the dog will find the child in a very short time, long before a search party has time to form. Zeus was used to demonstrate the training techniques, a volunteer would be sent into the woods for him to track and locate. He never failed to quickly locate the "lost" person and impress everyone. As a result, he became a mascot of sorts and was allowed to go where ever he wanted. In the dining room, he sat in the corner and enjoyed all the attention he got. Whenever we arrived everyone wanted to know where Zeus was before I was even greeted.
At the first workshop after his death, there was a lot of hugging and tears when I broke the news. Even after he retired and until his death, July 20, 2007, he still faithfully served the State of Florida and enjoyed every minute of it. He is buried in Montana, along with his only K-9 friend, Liberty Bell, our golden retriever. Their plot on our property in the mountains is on a point that overlooks the valley below.