Criminal Interdiction Unit
K-9 York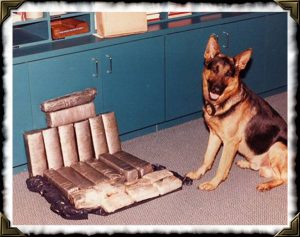 K-9 York began his eight years of service with the Florida Highway Patrol in July 1995. During his service York was in part responsible for the arrest of over 400 individual felons that transported drugs on the highways of Florida. "York" was retired in July 2003 due to health reasons. His handler was Trooper Jimmie Davis and they were assigned to Central Florida's I-75 corridor. York and Trooper Davis were partnered with Trooper Pat Earp for two years and then with Trooper Jason Lemery for the remainder of York's career.
York was involved in thousands of vehicle searches that resulted in the discovery of over 5,000 pounds of Marijuana, 136 pounds of Cocaine, 3,000 doses of Ecstasy, and 22 pounds of GHB (Date Rape Drug). Additionally York was instrumental in the seizure of significant amounts of U.S. Currency, Methamphetamine, Heroin, LSD, Anabolic Steroids and other dangerous drugs. All of these Florida Highway Patrol seizures started with just a traffic stop and totaled over $10 million dollars, resulting in over 2,000 criminal charges. In addition to his highway patrol duties, York assisted other agencies to further their investigations, resulting in seizing drugs and other contraband worth over $150,000.00.
K-9 York died February 24, 2006, and is remembered and missed by all that had the pleasure to know him.