Criminal Interdiction Unit
K-9 Troll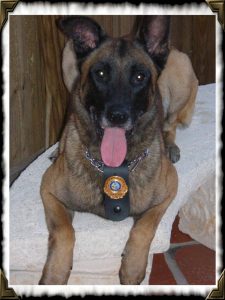 K-9 Troll was a 12 year old Belgian Malanois. He entered the Law Enforcement Community on March 2001 and was assigned to the (CIP) program with the Florida Highway Patrol, in Troop E – Miami.
During his tenure Troll was assigned to the South Florida Money Laundering Strike Force (SFMLSF) while also assigned to Road Patrol duties with his handler Trooper Orlando Saavedra. He  conducted a total of 32 tracks and was also used in several man hunts in Miami-Dade County. Troll was responsible for a total of $9,276,448 in U.S. Currency while assigned to the Multi Agency Task Force. He  was also responsible for a total of $5,800,250 in Narcotics Seizures. In one seizure alone, Troll alerted to wood boxes that contained 1800 lbs. in Marijuana, totaling $ 1.2 million in street value.
Troll was retired from service with the Florida Highway Patrol in March 2008. He lived with his family until he was laid to rest due to health complications.
K-9 Troll served the community and FHP with honor and courage. He made a lasting impression with everyone who met him and will be missed by all, especially by his family at home.
"REST IN PEACE BUDDY"