Criminal Interdiction Unit
K-9 Sheba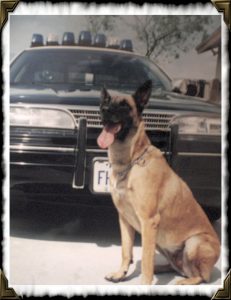 In October 1993, K9 Sheba began her short career with the Florida Highway Patrol assigned to Trooper Orlando Saavedra in Troop E Miami.
K9 Sheba was responsible for the seizure of $1,211,580 in US currency and a total of $8,668,700 in narcotics. K9 Sheba also performed a total of 26 tracks that resulted in the capture of nine suspects. K9 Sheba was a hard working and dedicated partner in service to the residents of Florida.
K9 Sheba was diagnosed with cancer and died on May 24, 1995. Her FHP family and fellow team members in Miami miss her.