Criminal Interdiction Unit
K-9 Rowdy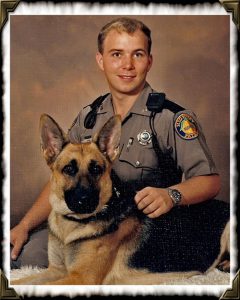 K-9 Rowdy began his career in August 1985, after being one of the first graduates of the Miami Police K-9 Training Program and one of the first K-9's assigned to Troop E – Miami's new K-9 Unit. Rowdy was partnered with Trooper Sean Johns and worked South Florida for more than 5 years.
Trooper Johns later became one of the first K-9 Instructors and K-9 Evaluators in the State of Florida and used Rowdy extensively as a representative of FHP's K-9 Program.
Rowdy had a distinguished career and was responsible for alerts resulting in millions of dollars of narcotic/cash seizures. He was also involved in many suspect searches for multiple agencies throughout South Florida, and was assigned to FHP's Robbery Suppression Team efforts on Interstate 95.
Throughout his successful career, Rowdy was an excellent example of the type of dual personality K-9 that could be used for a children's school demonstration the same day he had apprehended a violent fugitive.
Rowdy retired when Trooper Johns was promoted to FHP's Aviation Program, and remained with him as a faithful companion until his death in 1994.